Aside from their performance, the composition and creation of different steel grades are also interesting features about these items. They have a huge impact on the finished product so it's also crucial to take note of them as well in most cases.
The SR101 steel is one of the steel grades with a fascinating manufacturing process. It contributes largely to its commendable performance that lots of knife aficionados are fond of.
To learn more about this steel grade, read the quick SR101 steel review below.
What is SR101 Steel?
Defined as a high-carbon tool steel, the SR101 is a premium steel grade that is a popular choice for hard use applications. It is said to be a modification of the AISI 52100 steel by Jerry Busse, used in his Swamp Rat knives. It's outside the strict specifications of the said steel but can still be considered as a part of the same group.
An important detail to learn about this steel grade is that it's a very fine-grained steel. This makes it a great choice for knives as it creates a fine edge with enough hardness to stay in shape for a long time.
What makes the SR101 steel special is its manufacturing process. The manufacturers use a proprietary multi-step tempering protocol including a deep cryogenic treatment that helps refine the grains to its very small size. This is why even without certain components, it can still offer similar results.
The SR101 is best known for its toughness and strength. Due to its refined carbides, it also promises a very nice edge so it can get very sharp with the right techniques.
Common Uses of SR101 Steel
Since the SR101 steel is crafted by a knife manufacturer, it can be assumed that it hasn't been used for other purposes aside from knifemaking. This tends to make it hard to gauge just how versatile it can be and what else it can do.
SR101 Steel Chemical Composition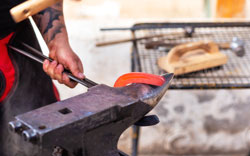 Interestingly, the chemical composition of the SR101 isn't that unique or very high in certain elements. It's also quite different from the 52100 which was its basis of creation.
Carbon, 1%
Chromium, 1.45%
Manganese, 0.69%
Silicon, 0.22%
Copper, 0.27%
Phosphorus, 0.25-0.30%
Sulfur, 0.025-0.030%
Carbon, 1%: This amount of carbon may not seem like much but for steel making, it's already a lot and it can already have a significant effect on the quality of the metal. This already helps make the SR101 tough and strong.
Chromium, 1.45%: Only a small amount of chromium is found in SR101 so it's not considered as stainless steel. Despite this, it still contributes to its hardness and hardenability.
Manganese, 0.69%: A fair amount of manganese gives the SR101 a good deal of strength and hardness. It's also a deoxidizer so it helps create a cleaner and more perfect steel.
Silicon, 0.22%: Silicon has the same effects to steelmaking as manganese: it adds strength and hardness as well as serves as a deoxidizer. It has a lesser effect, however, so it tends to be a good balancing component in most cases.
Copper, 0.27%: Copper is added to the SR101 to help improve its corrosion resistance. It can also help in improving the strength-ductility balance of the steel.
Phosphorus, 0.25-0.30%: This component offers a number of desirable benefits to the SR101. It adds strength as well as improves corrosion resistance and machinability.
Sulfur, 0.025-0.030%: In small amounts, sulfur isn't considered much as an impurity, especially since it can help increase the machinability of a steel. This very small amount of sulfur in SR101 works in favor of the steel.
SR101 Steel Hardness
The SR101 has a decent level of hardness, rated at 58-60 HRc in the Rockwell scale. It's not among the hardest steel grades but its fine carbides further help make it feel stronger and harder.
Does SR101 Steel Rust?
Since the SR101 steel is not a stainless steel grade, it can be expected that it can develop rust and corrosion when exposed to moisture and wet conditions. However, the best SR1010 steel knives tend to have great anti-corrosion coating so it doesn't seem to be a major problem for a lot of users.
Not all SR101 steel knives are made equally, though, so it's best to be very particular about the coating for the best results.
Properties of SR101 Steel
To better demonstrate the qualities and characteristics of the SR101 steel, here's a quick look at its key features.
Edge retention
What makes the SR101 a desirable material for many blade forgers is its ability to get a good edge and hold it for a long time. This is brought by its small-sized carbides and its good level of hardness.
The fine grains allow the steel to achieve an excellent level of sharpness promising better performance in knives. As blade steels with such attributes also tend to be hard, they also manage to stay in good shape despite abrasive and adhesive damage. They won't get dull quickly even with hard use, so there's no need to sharpen the knife again right away. This is a great plus as knives with these qualities tend to be tricky to sharpen.
Toughness
With its high carbon content, the SR101 steel promises a good level of toughness and strength. It can handle heavy use and even misuse. It won't easily break or deform despite putting a lot of strain on it.
A good proof of the SR101's toughness is the fact that it's a top pick for hard use knives by knife fans. Many trust it enough to handle rough use and it has proven to be reliable on such occasions.

Wear resistance
As mentioned above, the SR101 is strong and tough enough to resist abrasive and adhesive damage. This makes it highly resistant to regular wear and tear, too. As a result, it can promise longevity even if it gets a lot of rough use.

Hardness
While the SR101 isn't among the hardest steels out there, it's still pretty hard and capable of withstanding a good amount of strain. This further promises durability.

SR101 Equivalent Steels or Alternative
Since the SR101 isn't widely available from many manufacturers, some might need to compare it to other steel grades to get a better understanding of what it's like. To help with that, here's a quick rundown of how it fares against other popular metals.
SR101 vs Elmax
Offering high toughness, high strength, high wear resistance, superb corrosion resistance, and incredible dimensional stability is the high-end Elmax steel. Made by Bohler-Uddenholm, this steel offers a lot of the things knife fans and makers look for in a top-notch material.
Since the Elmax is stainless steel, it tends to have a nice edge over the SR101. However, price-wise, the latter can still be a bit more affordable, so that might be a worthy consideration for some.
SR101 Steel vs 1095
The 1095 is a popular high-carbon steel that is widely used for knifemaking. It's easily available and quite affordable so many are familiar with it. Compared to the SR101, it's a lot more brittle and chips rather easily.
SR101 Steel vs S30V
Hailed by many as the ultimate EDC steel, the S30V is a popular blade steel that many rave about. It has excellent wear and corrosion resistance. And since it was created in collaboration with popular knifemaker Chris Reeve, it addresses the needs of many blade forgers.
Compared to the SR101, its corrosion resistance gives it a leg up in the competition. In terms of edge retention, however, many find the SR101 capable of outperforming the S30V.
SR101 Steel vs M2
Best known for its versatility that makes it suitable for a wide range of uses, the M2 steel offers a good balance of toughness, wear resistance, and hardness. It also has a high level of machinability, making it appealing to knife makers.
Based on their components and manufacturing processes, the SR101 and M2 steels may be somewhat similar since both offer refined carbides that enhance their performance significantly.
SR101 Steel vs Infi
Since the Infi and SR101 are the main offerings of Swamp Rat knives, it's easy to see why they're often pitted against each other despite their many differences. As a proprietary steel that is 'shrouded in mystery', the Infi steel tends to get a lot of hype. It's well deserved, though, since it's a top performer.
Which one is better? Performance-wise, both are very tough, resistant to wear, and hold their edge well. Many say that the SR101 can hold its edge longer than the Infi. Since it's also more affordable, it can be a better pick for some. However, Infi is noted for its flexibility and many find it to be worth the splurge.
SR77 VS SR101
The SR77 is another steel grade produced by Busse Combat knives. It's a modification of the AISI S7 and is noted for its reliable performance.
The SR77 and SR101 are said to be for different purposes, however. Among the two, using SR101 steel for knife products seems to be more ideal while the SR77 is more often used for large choppers and axe type cutting tools.
SR101 Steel vs D2
Both offered by Swamp Rat, the D2 and SR101 are also often compared with each other as people try to choose which item to get from the knifemaker. While both are very durable and wear resistant, the D2 is stainless steel so that might be worth noting for some.
Those who are more particular about the size of the item they'll get don't have to bother about choosing between the two as D2 tends to come in smaller blades while SR101 knives are often a bit bigger.
Is SR101 Steel Good for Knives?
Based on everything said above, it can be deduced that the SR101 can be a great blade steel. It's tough, highly resistant to wear, and holds an excellent edge. It's not stainless but most SR101 knives come with a good coating so it's still not that hard to maintain. These make it an attractive option for those who are looking for a hard use knife.
Pros & Cons of SR101 Steel
Pros
Promises high performance
Can handle rough use
Chosen by many knife fans and aficionados as a reliable hard use blade steel
Doesn't require a lot of maintenance
Gets a good edge and holds it for a long time
Available from different knife makers
Cons
Can be a challenge to sharpen
Can be a bit pricey
Not stainless steel
Conclusion
Tough, strong, resistant to wear, and holds a very good edge, the SR101 steel easily covers all of the areas that lots of knife aficionados look for in a blade steel. While it is a bit pricey, many tend to find it worth investing in since it can handle hard use.
Want to share more information about this steel grade? Drop a line or two in the comments.