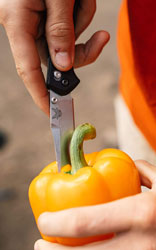 Like with other items made in the US, lots of people have great faith on American-made steel. They simply guarantee quality and dependable performance. However, some steel grades tend to take it to the next level with their impressive composition.
This is the case for the CPM S90V steel. Designed for exceptional wear resistance, this metal is one of the more popular premium-grade steels today. Get to know it better below.
 What is CPM S90V Steel?
Steel and knife enthusiasts need an introduction to the CPM S90V steel with it being a widely known metal. Created by the Crucible Industries, it's a high-carbon stainless steel. Its high vanadium levels also help set it apart from the crowd.
Aside from its components, its creation is also notable. Made with Crucible's proprietary Crucible Particle Metallurgy process, promising finer and more uniform carbide structure that is not achievable through conventional processes.
With its unique composition, the S90V is known for its great resistance to wear and corrosion. It also has super edge retention making it a desirable material for blades. The only caveat is that it's hard to work with so not a lot of manufacturers find it to be worth the effort.
Its superior features and performance also come at a high price. Many find it to be worth the splurge, however, since it offers something different.
Common Uses of CPM S90V Steel
The CPM S90V has a long list of uses, thanks to its impressive characteristics. Here are some of the most popular examples:
Plastic injections
Extrusion feedscrews
Pelletizing equipment
Injection molds and inserts
Food and chemical processing wear components
Bushings
Rolls
Bears
Valves
Gear pumps
Non-return valve components
Long-wearing specialty cutlery
Industrial knives and cutters
CPM S90V Steel Chemical Composition
As mentioned above, the CPM S90V has a unique composition. Aside from its high amounts of a few key components, it also has a surprisingly high content of vanadium. This really makes it a cut above the rest of the available steel grades today.
Carbon, 2.30%
Chromium, 14.00%
Vanadium, 9.00%
Molybdenum, 1.00%
Carbon, 2.30%: This amount may not seem much in the overall composition of metals but it's already a very high number for carbon. It's pushing the limits in strengthening and adding toughness to the metal.
Chromium, 14.00%: What makes this a stainless steel grade is its high chromium content. This ensures its excellent corrosion resistance, keeping metals free of rust and patina.
Vanadium, 9.00%: The S90V is one of the few steel grades with very high vanadium levels. This, combined with its high chromium levels, make it quite unique. This amount of V also allows the S90V to be very hard and very strong. It also contributes to the refined structure and size of its carbides which helps the metal stay stable and strong in very high temperatures.
Molybdenum, 1.00%: Further increasing the resistance to corrosion of the S90V is its high molybdenum content. It also contributes to the toughness, strength, and hardenability of the said product.
CPM S90V Steel Hardness
The CPM S90V steel is not among the hardest steel grades available today, it's more in the mid-range when it comes to premium steels. Rated at 56-59HRc on the Rockwell scale, there are lots of finer metals that are way harder. It's still hard enough, however, to be quite difficult to machine, grind, and sharpen.
Does CPM S90V Steel Rust?
Like what was mentioned a few times before, the S90V is known for its excellent corrosion resistance so it can be expected that it will not rust easily. It will not require a lot of special upkeep to prevent stains as well.
Properties of CPM S90V Steel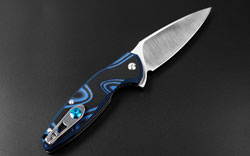 Most of CPM S90V's features have been mentioned above already but here's a more detailed discussion of what they bring to the table:
Wear resistance
This steel grade is best noted for its exceptional wear resistance which means it will not easily impart any of its materials from regular abrasive and adhesive damage. It can withstand great amounts of friction so it won't easily wear out or get out of shape.
This is the very feature that makes lots of people opt for CPM S90V steel for knife products. As knives experience a lot of friction on the regular, this characteristic guarantees that blades made with this material can last a while.
Hardness
As noted above, the CPM S90V has a high hardness level. It's not the hardest one will find in the market but it's enough to withstand high amounts of impact. This makes it suitable for rough use, an important feature for those who wish to use their knives for rough activities.
A drawback of using a hard steel for knives, on the other hand, is that they can be quite tricky to sharpen. The hardness will make it difficult to shave off some of the material and get to the angle one wants but it's not impossible. The right techniques will help one achieve the shape they need
Edge retention
When a steel is classified to be quite hard, they also tend to exhibit good edge retention. For knives, this means that they won't easily lose their sharpness, even with heavy use.
This is a great plus for the S90V since it also has fine carbides. When sharpened right, it promises to offer a very fine edge that will not easily get blunt or roll.
Toughness
While high levels of vanadium tends to reduce the toughness in steels, the CPM process helps the S90V maintain its toughness. Some even go as far as say that it improves the said feature. This is why it can be expected that this particular steel grade has a good balance of hardness and toughness.
What does this mean for users? A tough steel makes for a durable product. It can withstand rough handling and a good amount of impact so it won't easily break or chip.
Corrosion resistance
As a stainless steel grade, the S90V is also very resistant to corrosion and rust. This is why those who don't want to fuss too much over their knives tend to like the said material. Those who need a knife material that can handle being exposed to great amounts of moisture will also find this a suitable pick.
CPM S90V Equivalent Steels or Alternative
With everything said above, it's hard to deny that the CPM S90V steel is quite impressive. But is this only on paper or can it hold a candle against other highly coveted steel grades?
To answer this question, here are some comparisons of the CPM S90V to other popular metals.
CPM S90V vs S30V
Also from the same manufacturer, the S30V is a premium-grade steel that is very popular among knife makers. It shares a number of similarities from the S90V since both are made using the same process and the idea behind them are the same.
They're two very different kinds of metal, however, upon closer inspection. The S30V is also very tough with great wear and corrosion resistance but it's not that difficult to work with. Its machinability is way better than the S90V so some blade forgers go as far as saying that it's the absolute best high-end general-purpose stainless steel available today.
This may be the case but those who want better edge retention might still find the S90V to be a better pick.
S90V Steel vs M390
Also hailed as the best all-around knife steel is the M390 due to its excellent wear and corrosion resistance. Like the S90V it has high levels of chromium and vanadium. However, it also contains tungsten so its toughness is effectively enhanced.
What should be noted about the M390 is that it's not as expensive as the S90V. This gives it a nice edge in their competition. Add to this its higher machinability and it's easier to see why some knifemakers prefer it over the latter.
Maxamet Steel vs S90V
The Maxamet steel is best noted for its very hard composition. Rated at up to 70 HRc, it's one of the hardest metals around. This and the fact that it's not stainless steel highlight its great difference from the S90V.
However, since both items offer great wear resistance, some still find themselves torn between the two. It's really a toss up in this area as some might not mind the upkeep so they might find the Maxamet steel a suitable option for their needs.
 Is CPM S90V Steel Good for Knives?
With its good balance of toughness and hardness, great wear and corrosion resistance, and incredible edge retention, the CPM S90V ticks all of the boxes lots of knife enthusiasts look for in a high-performing material. This makes it a solid choice for knives.
Another good proof that it's a nice choice of steel for knives is the fact that big-name manufacturers are big fans of this metal. Brands like Benchmade and Spyderco like to use the S90V a lot for its high-quality and reliable performance.
Pros & Cons of CPM S90V Steel
Pros
Promises excellent wear resistance and durability so it can be expected to last a while
Very tough and hard so it will not easily crack or break
Will get a nice edge thanks to its fine carbides
Will hold its sharpness for a long while
Doesn't require a lot of maintenance
Popularly used for knives that need heavy wear
Takes a nice finish giving it an attractive look
Versatile
Cons
Can be quite pricey
Challenging to work with
Can be a bit difficult to sharpen
Best CPM S90V Steel Knives
To better demonstrate what the featured metal is like, here are some of the best CPM S90V steel knives that highlight the blade material's properties.
#1: Benchmade – 940 EDC Manual Open Folding Knife
Quick Specification
Blade Steel: CPM-S30V (58-60 HRC)
Blade Length: 3.40″ (8.64cm)
Blade Thickness: 0.115″ (2.92mm)
Open Length: 7.87″ (19.99cm)
Closed Length: 4.47″ (11.35cm)
Handle Thickness: 0.41″ (10.41mm)
Weight: 2.90oz. (82.21g)
Blade Edge: Plain
Starting this list of CPM S90V knife reviews is the famed Benchmade – 940 EDC Manual Open Folding Knife. This item may not seem like much but it's one of the most popular offerings of the brand as many consider it to be the best pocket knives in the market.
Designed for heavy everyday use, the Benchmade 940 is tough and extremely durable that it won't buckle at any kind of use it's subjected to. The blade is designed and built to take on all kinds of uses since it's equipped with a reverse tanto design.
The construction of this knife is also notable. Its folding mechanism is very secure without compromising its easy access. It's also designed to fit nicely inside pockets so it can be carried around with great ease.
Pros
Made by a reputable brand
Versatile functionality
Beautiful design
Well made with very sturdy construction
Made in the US
Very popular model
Cons
Quite pricey
There are fakes so buyer beware
#2: Spyderco FB36CFP Hunting Fixed Knife
Quick Specification
Overall Length: 8.75″ (222mm)
Blade Length: 4.00″ (102mm)
Edge Length: 3.89″ (99mm)
Weight: 6.3oz (179g)
Blade Thickness: 0.14″ (3.5mm)
Steel: CPM S90V(420V)
Origin: Taiwan
Another popular S90V knife is the Spyderco FB36CFP Hunting Fixed Knife. As a bushcraft knife, it's meant to be simple but very tough. However, the manufacturer modernized the details of the Proficient range so it promises to step up the game.
Designed by wilderness expert Chris Claycomb, this knife takes applied modern touches to tradition so it promises to be tougher, more wear and corrosion resistant, durable, and overall a better performer than its competition. The S90V steel really gave the bushcraft knife an upgrade with this product.
Aside from being aesthetically pleasing, it's also nice to hold and handle. The handle is well contoured so lots of people find it easy to grip and wield.
Pros
A whole different kind of bushcraft knife
Made of premium-grade materials
Good design and well built for great durability and high performance
Versatile
Comfortable handle
Cons
Quite pricey
Some are not big fans of its sheath
#3: Benchmade – Proper 318-2 Knife
Quick Specification
Blade Steel: CPM-S30V (58-60 HRC)
Blade Length: 2.82″ (71.6mm)
Blade Thickness: 0.090″ (2.286mm)
Open Length: 6.65″ (168.9mm)
Closed Length: 3.85″ (97.8cm)
Handle Thickness: 0.40″ (10.16mm)
Weight: 2.28oz. (64.64g)
Blade Edge: Plain
Handle Material: Micarta
Described as the brand's "modern take on the classic gentleman knife", it's easy to see that the Benchmade-Proper 318-2 Knife is meant to appeal based on aesthetics as well. It's sleek and ideal for those who want something nice to carry around on a daily basis.
Despite its swanky appearance, however, it doesn't compromise in terms of quality and performance. Its S90V steel blade makes it tough, durable, and high-performing. Its carbon fiber handle is made to be very grippy so handling can be secure and easy in all kinds of situations.
It should be noted that this folding knife doesn't come with a locking mechanism so that's something to take into consideration as it can get around certain restrictions. It's equipped with a sturdy spring that will keep the blade securely in place, however.
As it's also made in the US, this item can promise great quality to those who are ready to invest.
Pros
Beautiful compact design
Comes with a limited lifetime warranty
Made in the US
Highly versatile and perfect for everyday carry
Very good craftsmanship
Cons
An investment piece
Some might need to get used to its non-locking design
#4: Spyderco Drunken Prestige Premium Folding Knife
Quick Specification
Overall Length: 8.00″ (203mm)
Blade Length: 3.45″ (88mm)
Closed Length: 4.61″ (117mm)
Edge Length: 3.45″ (88mm)
Weight: 3.8oz (108g)
Blade Thickness: 0.138″ (3.5mm)
Steel: CPM S90V(420V)
Handle: Carbon Fiber/Titanium
Origin: Taiwan
The Spyderco Drunken Prestige Premium Folding Knife offers the best of both worlds to knife collectors. It's made by one of the most popular premium knife manufacturers and designed by a famous custom knife maker, Dmitry Sinkevich, promising superior form, function, and build.
Looking at its details, it's easy to see that this item is not an ordinary mass-produced knife. It has several well thought out details that make it a cut above the rest.
Take its 'drunken' handle texture for starters. As its key feature, it doesn't just add visual appeal to this item but also gives it a nice grip for better performance. The blade also sports the brand's Trademark Round Hole which makes it easier to open with either hand.
The price may be a bit surprising but the premium materials used in this knife make up for it. The blade is made of premium S90V steel so it's guaranteed to be durable and high-grade. The handle has a titanium scale on one side and carbon fiber on the other giving it a good balance.
Pros
Very thoughtful design by a popular custom knife maker
Great build
Versatile functionality and handling
Attractive appearance
High-grade materials used
Ergonomic handle
Cons
High-end price
Some have issues with the clip design
Conclusion
In conclusion to this CPM S90V steel review, it can be said that the CPM S90V steel can truly be a solid choice for a premium knife steel. With its superior wear and corrosion resistance combined with exceptional edge retention and good toughness, it can deliver good results.
Sure, S90V knives are pricey but their price tags are easily justified by how well built they usually are and the kinds of materials used in them. They're also often incredibly designed so it's not a reach that some knife aficionados consider them to be a cut above the rest.
Have more information about the CPM S90V steel that's worth noting? Share them in the comments!