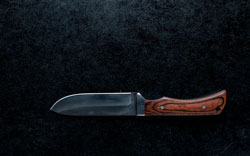 If you don't have a huge budget for a knife, then you may want to forgo the super steels with their legendary hardness ratings. Instead, you may want to go with 1075 steel for your blade.
With this guide, you'll find out why it's a good choice if you're looking for an affordable knife that you won't use all that often. This guide will look closely at what makes 1075 work, and will even give you its chemical composition.
You'll find the pros and cons of 1075 steel here. More importantly, we already compiled a list of 3 excellent knives you should consider if you're thinking about getting yourself a 1075 steel knife.
What is 1075 Steel?
The 1075 steel is a low alloy, medium-carbon steel. It's hard enough that it works for several types of commercial products and industrial components in various fields.
It works for knives, though more known for its toughness and for its ease of sharpening. It's not very hard steel at all, and it scores low when it comes to corrosion resistance either.
Still, the 1075 steel is very affordable, and it's easy to find as well. It's also easy to work with if you're a budding metalsmith, and you can use it to make your first knives.
Common Uses of 1075 Steel
Antennas
Clock Hands
Lock Picks
Outdoor knives (for hunting, camping, and fishing)
Spring Clamps
Springs (especially vehicle coil springs)
S-Tines
1075 Steel Chemical Composition
Let's take a closer look at the elements that make up the 1075 steel alloy:
Carbon, 0.7% to 0.8%
Manganese, 0.4% to 0.7%
Sulfur, 0.05%
Phosphorus, 0.04%
Carbon, 0.7% to 0.8%. This is a decent amount of carbon, which many experts regard as the most important element in steel (especially for knives). But it's not really a lot, why is why the 1075 steel isn't regarded as all that hard. But it's hard enough for knives, especially outdoor knives. You don't want too much carbon if you require a tough knife that won't chip off that easily.
Manganese, 0.4% to 0.7%. The manganese is only next to carbon in its importance, since its effects are actually similar to what you get from carbon. It helps with the tensile strength of the steel, and also boosts the hardenability of the steel. It also takes out a bit of the unwanted oxygen and sulfur out of the molten steel. It also works with a bit of sulfur to make the 1075 more machinable.
Sulfur, 0.05% at the most. You actually don't want too much sulfur in steel alloys, and you really don't want high sulfur with low manganese levels. The sulfur can decrease the transverse ductility and notched impact toughness of the steel.
But with only a tiny amount of sulfur (like in this case), it works with the manganese to boost the machinability of the steel.
Phosphorus, 0.04% at the most. This is another type of "impurity" in the steel alloy that you don't normally want. Too much of it leads to brittle steel that chips off easily.
But with this tiny amount of phosphorus, it improves the tensile strength of the steel and also makes the 1075 steel more machinable.
1075 Steel Hardness
The 1075 barely qualifies as hard enough for a knife. It's even softer than 1095 steel, and that leads to comparatively poor edge retention and wear resistance. But with its 55 HRC rating (at the most), you can steel get enough hardness for good cutting performance.
But the low hardness does come with benefits. For one, the low hardness gives you a tough blade that's not prone to chipping off at all. The 1075 bends nicely. In addition, even though you have to sharpen the blade often, the 1075 steel is soft enough that sharpening the edge isn't a problem at all.
Does 1075 Steel Rust?
Yes, and very easily too. There isn't any of the elements like chromium that normally boost the corrosion resistance of a steel alloy. What this means is that you want a 1175 steel blade that comes with some sort of protective layer or coating that helps with fighting off the onset of rust.
Even then, you'd want to avoid getting the blade wet, and you need to oil the blade often. This 1075 steel certainly doesn't compare with stainless steel at all.
Properties of 1075 steel
These are the main properties (both advantages and drawbacks) that you can expect from 1075 steel:
Low Hardness
You can get a hardness level of 50 to 55 HRC with 1075 steel, and that's if you find the best manufacturers for 1075 steel knives. While that gives you adequate cutting performance, it doesn't compare to how many other better steels perform. You get relatively poor edge retention as a result. You don't really want 1075 steel for tough cutting tasks and all-day duty.
Easy Sharpening
On the other hand, sharpening a 1075 steel blade is a piece of cake. Even a newbie with a basic sharpening stone can do this with no trouble. It won't take a lot of effort, and not a lot of time either. In fact, you can buy an affordable 1075 steel knife simply to practice your blade sharpening skills.
Good Toughness
Because the 1075 steel is relatively soft, it will bend more than it will break. That means it's tough, which is why it's great for outdoor activities like hunting and camping. You're not likely to end up with a chipped off blade if you use your knife properly.
Affordable and Easy to Find
The 1075 steel knives are generally budget options, which is great if you're looking to buy an affordable knife that you only plan to use every so often. The affordable steel can also be used for showcase and historical knives, which you can display. The use of the 1075 steel for the blade lowers the price considerably.
Easy to Work With
This is a good steel type you can practice on if you're a newbie knifemaker or metalsmith. It's fairly easy to work with using a variety of heat treatments. You can practice your metalsmithing skills on this steel and not spend a lot on the steel. Besides, you can even end up with a fairly nice custom knife at the end.
Low Corrosion Resistance
This is another major drawback to 1075 steel, and you have to be very careful with it. Lots of people who are used to stainless steel kitchen knives end up being dismayed by how quickly the 1075 steel can stain and rust.
You should go with a 1075 steel knife that already comes with some sort of protective coating that helps with corrosion resistance. You will also have to oil your blade often to fight off the onset of corrosion.
1075 Equivalent Steels or Alternative
How exactly does 1075 steel compare with other similar steels? Check out how it performs when directly compared to other budget steels with low carbon content.
1075 Steel vs 1095
Some have called the 1075 steel as the "little brother" of the 1095 steel. They're both very affordable and readily available. The 1095 steel contains more carbon, which is why it retains its sharp edge better than the 1075 steel. The 1095 steel is actually more commonly sued for knives than the 1075.
But the 1075 steel bends more, so it's less like to chip off. The softer 1075 steel is also easier to sharpen, plus it's generally more affordable.
1075 Steel vs 1045
With the 1045 steel, you have even lower carbon content than the 1075 steel. The 1045 steel is tougher, though, which is why it works best for axes. The 1075 steel holds its edge better. The 1045 steel is somewhat easier to sharpen, but then they're both no trouble to sharpen at all.
1075 Steel vs 1080
The 2 steels are so similar that some people bunch them together as the 1075/1080 steel. They basically have the same elements (carbon, manganese, sulfur, phosphorus), though the 1080 steel is a bit harder due to its higher carbon and manganese content.
1075 Steel vs 440 steel
There are several types of 440 steel, with the 440A the most rust resistant. The 440 steel and 1075 steel alloys are both budget options, with good toughness. But the 440 steel is more resistant to rust, though its average carbon content may be a wee bit lower.
Is 1075 Steel Good for Knives?
It's good enough, at least for a budget knife. It works nicely for EDC, but with its toughness it's also great for outdoor use.
You do need to worry about its low corrosion resistance, especially if you're going to use this for hunting a lot. The best 1075 steel knives come with a special coating to help fight off rust, but it will be a very good idea to oil the knife often.
With the rather unimpressive edge retention of 1075 steel, you'll need to sharpen the 1075 steel often. That's why it's not really meant for heavy-duty, all-day use. It's best for occasional use outdoors or for opening packages and envelopes. At least it's easy to sharpen.
Pros & Cons of 1075 steel
Pros
Very affordable
Easy to work with, leading to intricate blade designs
Good toughness level
Very easy to sharpen
Cons
Doesn't retain a sharp edge well
Low resistance to abrasion and wear
Low corrosion resistance
Best 1075 steel Knives
#1: Condor Tool & Knife, SBK Knife
Quick Specification
Blade Length: 5.28 inch
Overall Length: 10.47 inch
Blade Width: 1.50 inch
Weight: 13.4 Ounces
Blade Thickness: .12 inch
Handle Material: Canvas
Blade Material: 1075 Carbon Steel
Country Of Origin: El Salvador
This seems like it has a rather simple design, with its slender profile and straight back blade shape. But it also looks formidable, thanks to its overall length of 10.47 inches. This is a tactical blade that you can use for camping and hunting.
The slim blade accounts for 5.28 of those inches, and the 1075 steel has been heat-treated and annealed to coax the hardness rating up to a range of 50 to 55 HRC.
We now know that the 1075 steel isn't highly resistant to corrosion as is, but the blade has also been layered with the special, non-reflective Condor traction powder coating. This coating helps with the corrosion resistance so this works with outdoor activities, and also to boost its resistance to abrasion.
The handle is made with micarta, and it's tough enough for outdoor use as well. It's been shaped to offer a secure and comfy grip, with the texture to match.
Finally, it comes with its own Kydex sheath, and this sheath also can deal with harsh environments with no trouble. It's normally meant for right hip carry, but you only need a few adjustments to carry it on your left hip. You can even set it up for scout carry (set horizontally at your back).
The SBK has been a fan favorite for several years now, and it's easy to see why. It's very versatile, and it works nicely for opening packages as well in the office or at home.
Pros
Works well for both outdoors and EDC
Comes with its own sheath
Coating helps with corrosion resistance
Cons
Not exactly cheap
May be a bit overlarge for EDC
#2: Condor Tool & Knife, Lost Roman Knife
Quick Specification
Blade Length: 4.9 inch
Overall Length: 9.7 inch
Blade Thickness: 0.1 inch
Weight: 11.22 Ounces
Blade Material: 1075 High Carbon Steel
Handle Material: Walnut
Sheath Material: Welted Leather
Made in: El Salvador
This is part of Condor's Classic series, and it has a "Roman" design that would look great with an ancient Legionnaire's gear. The blade and the handle were both carefully crafted, so much so that this isn't just a tool anymore. It's a work of art.
With the blade, you have that design on the blade that's reminiscent of Damascus blades. The handle is made from walnut, and it's been carefully carved with interesting designs. It's been shaped to be somewhat ergonomic, but the lack of a hilt means you want to be very careful.
The grip is quite smooth, and your hand may slide down to the blade itself if you use this for stabbing. The end of the handle comes with a loophole so you can carry this with a cord around your neck. With the blade measuring 4.75 inches, this works great as an elegant letter opener for your office.
The leather sheath is nice as well, and it's been handcrafted for heavy-duty use.
Pros
Classic design
Interesting blade surface
Intriguing designs on walnut handle
Comes with a perfectly shaped sheath
Cons
Design needs care when using the knife
Looks too pretty for outdoor use
#3: Wild Turkey Handmade Collection Full Tang Hunting Knife
Quick Specification
Overall Length: 7 inch
Blade Length: 4 inch
Handle Length: 3.5 inch
Weight: 1 pounds
Blade Material: 1075 High Carbon Steel
Handle Material: Wood
Blade Shape: Straight Back
Blade Edge: Drop Point
This one seems smaller in comparison with the other Condor knives on this list, but that's probably because of the wide base of the triangular blade design. This full tang is actually 7 inches long overall, with the wide blade accounting for 4 of those inches.
Then you have the wooden handle with a stubby base as swell, and it's been angled and shaped for efficient cutting and a secure hold on the handle. You have a leather sheath to cap it all off, and that sheath's shape fits the knife blade perfectly.
The blade itself comes with a rather interesting texture, as if a craftsman carved up some runes on it. But this knife works very well for hunting activities, and you can also bring it along for fishing and camping duties. This looks like it can deal with tough ropes with no trouble at all.
You may want to sharpen the knife a bit after you've taken this out of its box. It's a good thing that the 1075 steel is easy enough to sharpen, so this shouldn't be any trouble at all.
Pros
Good for camping, hunting, and fishing
Can deal with tough cutting tasks
Interesting look
Secure grip
Comes with perfectly shaped leather sheath
Cons
Not quite sharp enough out of the box
Conclusion
If you don't really use a knife all that often, then it makes sense that you go with a 1075 steel knife. It's very affordable, but you can find it used with knives that comes with interesting designs, shapes, and patterns.
Sure, it scores low when it comes to edge retention and corrosion resistance. But having a 1075 steel knife teaches you good knife maintenance habits. You'll learn about sharpening a blade properly, and about the need for oiling the blade to fight off corrosion. A 1075 steel knife can be your starter knife that can make you a lot more interested in knives in the future!