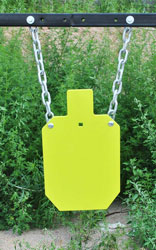 Most people aren't really all that familiar with AR500 steel, even though it's widely used in many industries. After all, it's not really the sort of steel you'd commonly find in common household items. It's not really used for knives, either.
But if you're into target shooting practice, then you may be encountering AR500 steel on a regular basis. That's because plenty of excellent AR500 steel metal plates are used as targets for shooting.
In this AR500 steel review, we will check out more closely why we have AR500 steel for targets, and discover which of the best AR500 steel targets will suit your needs.
What is AR500 steel?
AR500 is a type of steel that's known for its high abrasion-resistance (hence the "AR" in the name). More specifically, it's a steel plate used as armor that offers excellent resistance to wear, impact, fatigue, and even corrosion.
It's extremely hard and long-lasting, and in fact this grade of steel has one of the highest hardness levels you'll find among the more common AR steel grades. The "500" in the name refers to its BHN (Brinell Hardness Number) that's commonly between 460 all the way to 544.
Common Uses of AR500 steel
Because it can withstand impact and wear without breaking, AR500 steel can be found in a wide range of equipment and industries. It's also popular because it can handle even extreme levels of abrasion.
You may find AR500 steel used in the following types of industries and applications:
Aggregate equipment, used to handle crushed materials (like gravel and granite), and include jaw crushers, impactors, and cone crushers
Buckets
Dump trucks
Hoppers
Material transfer chutes
Material-handling equipment
Mining equipment
AR500 steel Chemical Composition
Carbon, 0.31%
Manganese, 0.95%
Phosphorus, 0.025%
Sulfur, 0.005%
Silicon 0.65%
Chromium, 0.75%
Nickel, 1%
Molybdenum, 0.75%
Boron, 0.003%
Carbon, 0.31%: The carbon helps explain why this steel plate is so hard. In fact, in just about any type of steel the carbon is the most crucial element. The amount of the carbon dictates the strength and hardness of the steel. It also determines the steel's hardenability, meaning its response to heat treatment.
There's not a huge amount of carbon here (other steels have more than 1%), but that's because the ductility of the steel decreases as the carbon amount increases. The steel becomes harder to machine and weld with too much carbon.
Manganese, 0.95%: Next to carbon itself, the manganese is the most important. Its effects are quite similar to what you get from carbon, which is why you often see these 2 steels together. Hot rolling the steel can't be done without the manganese combining with sulfur and oxygen.
Manganese boosts the tensile strength and the hardenability of the steel. But too much will significantly reduce the ductility.
Phosphorus, 0.025%: You don't have much phosphorus in AR500 steel (or in just about any steel, for that matter) because phosphorous can turn the steel brittle. It's unwanted enough in steel that it's even considered an impurity.
But a little bit can boost the steels corrosion resistance and strength. But it also reduces the toughness and ductility.
Sulfur, 0.005%: Like phosphorus, this is also regarded as an impurity. In fact, it decreases its resistance to impacts and this is an effect that manganese counters. It also reduces transverse ductility.
Silicon 0.65%: The amount here is standard, since you normally find silicon amounts in steel to within 0.35% to 1%. It's one of the main deoxidizers in steel, meaning it's used to take out bubbles from the molten steel.
Chromium, 0.75%: If you have high levels of chromium in steel, that means the steel is much more resistant to corrosion. That's why stainless steel must have at least 10-12% chromium in order to qualify as actual stainless steel. While the amount here isn't enough to qualify, it does help. It also helps with boosting the hardenability of the steel.
Nickel, 1%: Like chromium, it helps with both corrosion-resistance and hardenability. It also boosts the notch toughness of the steel, meaning it helps the AR500 steel to absorb the impact force even when there's a current notch or flaw in the steel.
Molybdenum, 0.75%: This offers lots of benefits. It increases corrosion resistance, hardenability, creep strength, and elevated temperature strength.
Boron, 0.003%: It increases the hardenability to a considerable degree, and it only takes a tiny bit of boron to get that effect.
AR500 steel hardness
With this grade of steel, you usually use the BHN scale, and for AR500 you have a BHN rating of around 500 (460 to 544, usually).
What does this mean? In comparison, mild steel is only at 130 BHN, while annealed chiseled steel is at 235 BHN. A 250 grade is actually strong enough that it's commonly used in high-rises and bridges. Even white cast iron is only at 415 BHN, which means AR500 is considerably stronger.
This is why you can find AR500 steel and other grade 500 steel in heavy-duty mining equipment. They have the toughness and lead bearing capacity to handle the stress.
Properties of AR500 steel
Here are the properties you can expect when you're using or working with AR500 steel:
Decent Welding
It's not quite as easy to weld AR500 than most other types of steel out there. That's due to how it can deal with high temperature.
But you can still weld it without extreme difficulty, though it won't be as easy as you might like. You will have to use low-hydrogen-producing electrodes.
Good Machining
One of the advantages of AR500 steel is that it's not super difficult to machine it. You'll have more problems with even tougher steel. But here, you get good machining even with this rigid steel.
You can use carbide tools and conventional equipment, and you can do general machining along with milling, tapping, counterboring, countersinking, and drilling.
Fair Forming
You can form this steel grade to whatever you want, though it will take a bit of effort. That's understandable considering its rigidity. But it's not impossible to do, even if it's not easy either. You will have to use an inside radius of 10x the thickness of the plate, with the bend axis transverse to the rolling direction.
Excellent Abrasion Resistance
This is perhaps what it's best known for. It will deal well with impacts, fatigue, and wear. Again, this is why it's so commonly used for heavy-duty mining equipment.
Good Corrosion Resistance
This is also crucial, as its many jobs may subject it to plenty of exposure to water and moisture. This won't rust easily, especially with proper TLC.
AR500 Equivalent Steels or Alternative
To get a better idea of how AR500 performs, check out how it compares to other steels. You might even find a better alternative to AR500 to suit your needs, though you may just confirm that the task at hand, AR500 is indeed your best choice.
AR500 Steel vs Hardox 500
If someone asks you the difference between AR500 steel and Hardox 500, it's a trick question. That's because it's basically the same.
To be more specific, though, the Hardox 500 is a type of AR500 steel. It's just that its hardness is at BHN 500, which is quite specific. Keep in mind that depending on the manufacturer, the hardness can range from 460 to 544 BHN.
In fact, there are other variants, with Hardox 450 (slightly less rigid) and Hardox 550 (slightly more rigid).
AR500 Steel vs Mild Steel
Mild steel hardness is only at 130, which is a far cry from AR500's 460 to 544 BHN. This is especially evident when you compare target steel plates made from AR500 and mild steel. When you're using powerful weapons, (especially rifles), you better make sure your rounds are only going straight at the AR500.
With the mild steel targets, they end up looking like the lunar surface a lot more quickly than the AR500 steel. The AR500 steel will last long, and can deal with more powerful rounds that mild steel won't be able to deal with.
AR500 Steel vs Titanium
It's true that you can find titanium alloys used in aircrafts, missiles, and armor plating. It's known for its high tensile strength.
But in the areas that matter, AR500 is better especially for armor plating and for target shooting. The AR500 is harder, as pure titanium only reaches 70 at the BHN scale (which is why titanium alloy is used). What's more, titanium is brittle compared to AR500.
Finally, titanium is harder to source, work with, and deploy on a larger scale. That's why it's about 5 times more expensive than AR500.
AR500 Steel vs Tool Steel
This isn't an easy comparison, because tool steel refers several types of carbon steel and alloy steel. The name refers to its suitability for use in making tools. They're also quite hard and resistant to deformation and abrasion.
With so many types to consider, making a definitive comparison is difficult. But keep in mind that tool steel is basically just good enough for tools. AR500, on the other hand, is used for heavy-duty equipment that may expose it to a lot of stress, abrasion, and impacts.
For making tools, the tools steel will probably be better as it will be easier to work with and more affordable besides. But for equipment such as heavy-duty machinery, then tool steel just isn't going to work.
Pros & Cons of AR500 steel
Pros
It's very tough and won't let bullets through
It's very resistant to abrasion
It resists wear and fatigue
It's not extremely difficult to work with
It's even corrosion-resistant
Cons
Well, it's not easy to work with, either.
Best AR500 shooting targets
#1: AR500 Steel Targets – Gongs – Silhouettes and More for Pistols and Rifles
This comes with different shape designs and sizes, starting with either going with the torso shape or just the simpler round "gong" design. With the gong, sizes range from only 3 inches up to 16 inches in diameter.
Here we went with the gong design with the 8-inch diameter. It looks like a round head with "ears" featuring holes so you're able to hang this up with no trouble.
We also went with the half-inch thickness, to give us more leeway. This is the thickness that's usually found in targets used for law enforcement and military shooting training.
That means it's surely able to stop even 338 bullets without any difficulties.
But it is meant to withstand a bullet speed of 2,850 fps at the most at the point of impact. Higher than that, and you'll likely end up with pitting on the gong surface.
If you use this AR500 steel properly, though, then its hardness can take a lot of shots. The bullets will vaporize on impact or just bounce off.
The quality of the cut on the steel is quite good, thanks to the use of the premium Mitsubishi NX SERIES 6000W laser cutting machine. It's also plated with yellow zinc for maximum rust protection, and it's ready to be painted.

Pros
It just about lasts forever with proper use
Can stop .338 bullets
Good cut quality
Terrific corrosion-resistance
Lots of size and thickness options
Cons
Hanging straps not included
#2: KRATE Tactical AR500 Steel Shooting Targets
Quick Specification
Finest 3/8″ thick genuine Laser Cut USA AR500 steel
12″ x 24″ torso is an IPSC torso minus the D zone (AC Zone)
Excellent for simulating an attacker
Large target rings loudly when hit and is a ton of fun to shoot
Hang with 12″ or 18″ straps +hardware
Weighs: 26 lbs
Mounting Holes: 1/2
Yes, they also offer the gong shape design, but this time we went with the torso shape for the target. The size of the torso ranges from 12 to 20 inches, so we went with the midsize 18-inch torso.
The feedback is quite satisfying, since you hear a nice, crisp CLANK sound every time you hit it. You can also paint it whit (use spray paint), and you'll immediately see where you it, too.
We also went with the half-inch thickness, to be on the safe side. Even though the ⅜-inch thickness is ostensibly good enough for even up to .50 rounds, with the half-inch we get an extra layer of safety and durability.
The half-inch thickness can also deal with 7mm, 0.300 WM, and 0.50BMG rounds, while the ⅜-inch thickness cannot.
This is also meant to last a lifetime, with proper care. You just need to avoid pitting by making sure that at the point of impact the bullet should not go faster than 3,000 fps.
It's best that you shoot handguns from at least 10 yards away. For rifles, stand no closer than 100 yards away.
This comes with the 3 mounting holes on the shoulder area, with each hole measuring ⅝ of an inch. Mount this in a way so that it swings freely, to minimize ricochets and fragments.

Pros
Well-made plates with good cuts
Very loud feedback
Can be configured in whatever way you want
Plenty of size and thickness options
Cons
You need to buy the mounting kit separately
You have to pain it for visual feedback
#3: Highwild AR500 Steel Target for Shooting
Quick Specification
Size: 7″ X 12″, 10″ X 16″, 12″ X 20″.
Thickness: 3/8″.
Rang: 10 yards and rifles 100 yards.
Keep the speed of the bullet below 300 fps at the point of impact to avoid pitting.
1/4″ AR500 For all pistols except 44 mag lighter, louder and less expensive than 3/8″.
3/8″ AR500 For rifles to 308 and magnum handguns.
1/2″ AR500 For rifles 308-338 Lapua.
This time, the Highwild torso target we picked was already painted yellow (red was the other option). That means it's already prepared so that you can immediately see where you hit the target.
The torso size we picked was the midsized option, measuring 9⅝ inches by 16 inches. You can go bigger (12×20 inches) or smaller (7¼x12).
We also tried out the standard ⅜-inch thickness, which also worked well enough for most pistol and rifle rounds. It gives you a clear ding sound every time you hit it.
This comes with 3 mounting holes as well. We used the 2 side holes with mounting chains set at a swing post, so that the target swings whenever we hit it.
The standard proximity rules apply, with 10 yards for pistols and 100 yards for rifles.

Pros
Lots of options for shapes, sizes, and thickness
Already painted
Comes with mounting holes
Satisfying ding when hit
#4: Highwild AR500 Steel Hostage Reactive IDPA Shooting Target
Quick Specification
Weight: 9.17 Pounds
Material: 3/8″ AR500 Steel
Process: Laser Cut
Hostage Target: Yellow Powder Coat
Swivel Paddle: Orange Powder Coat
Keep the speed of the bullet below 3000 fps at the point of impact.
Do not shoot steel targets from closer than 10 yards.
Yes, it's another AR500 steel target here. But this is a Steel Hostage Reactive IDPA that complies with the standards set by the International Defensive Pistol Association.
This is a target that's meant to simulate a hostage situation. That's what the IDPA competitions are all about—they're supposed to simulate various self-defense scenarios.
You have a hostage (whom you're not supposed to hit, and then your bad guy target is also presented. The hostage is represented by the torso painted in yellow, while there's an orange head (beside the yellow hostage head) that represents the head of the bad guy.
That orange bad guy head measures just 4 inches in diameter, so you have a much more limited area to hit. The hostage torsos come in various sizes, like 7 inches by 12 inches, 10 by 16, and 12 by 20.
You don't really swing this using a chain, since there's only a single mounting hole measuring half an inch. That means you have to set this up on a post.
The targets are all laser-cut, in US facilities. The quality is terrific, as you get that characteristic ding sound when you hit the target and the steel connector has a longer service life.
You then hope that you hit the bad guy target in the head, and that you don't see any shots in the yellow paint. Of course, this can always double as a simple pistol and rifle target, and you can pretend the yellow target is your bad guy.
We went with the ⅜-inch thickness, since we felt that with hostages involved, there's really no call for super-powerful bullets. This can handle the usual calibers, like the 45ACP, 9mm, 308, .223, and 30-06.

Pros
Already painted
Good for hostage situations
Handles most calibers
Steel connector is tougher
Cons
Doesn't come with the stand
5: Make It Ring Targets AR500 3/8″ Steel Shooting Target Gong
Quick Specification
Made from American made material
Available in 1/8″, 1/4″, 3/8″, 1/2″
1/8″ AR500 steel is only for 22LR and air rifle.
1/4″ AR500 steel is for rimfire rifles and non Magnum Handguns.
3/8″ AR500 steel is for .223 and .308.
1/2″ AR500 steel is for 300 Wing Mag and .338.
We went with the 5-piece gong set, with diameters 3, 4, 6, 8, and 10 inches. With different sizes, you're able to start with the biggest one and use something smaller as you get better (or if you get farther from the target).
This isn't painted, but you can just clean the gongs, use a scuff pad to sand them down, and then spray them with paint. We also went with the ⅜-inch thickness.
They used a plasma cutter to cut these, but the edges are smooth so there's really no issue. The AR500 is tough enough that even 5 mags of 5.56 at 30 yards and with a 16-inch barrel didn't leave any dents or pockets.

Pros
5 targets of different sizes
Very tough
Smooth edges
Conclusion
It seems very evident that AR500 is ideally suited for use in target shooting. It can take the hits, and last a long time. Try it yourself, and with this good steel your targets can help you practice for years to come.
Frequently Asked Questions
Is AR500 steel bulletproof?
Well, it's used for bulletproof armor. That means yes, if it's thick enough then bullets don't penetrate it. It even can stop numerous hits from bullets in the same area. It's also strong enough to dissipate the impact throughout the steel plate, to minimize the injuries to the person wearing the AR500 steel.
Will AR500 stop 308?
That will depend on the thickness of the AR500 steel plate you're using. In general, AR500 can stop magnum handguns and rifles up to the .308 if the steel plate is at least ⅜ of an inch thick.
Can you cut AR500 steel with a cutting torch?
Cutting an AR500 steel plate can be done with a variety of tools. You can use a water jet, laser, oxy-Acetylene, or plasma. You can even just use abrasive cut-off saws.
How much does AR500 steel cost?
That depends on where you get it. and the size and thickness you get.
Typically, if you get 12×12-inch steel plate with .375-inch thickness, the cost will be around $260 or so. Double the are to 12×24 and the price jumps to about $320.
That 12×12-inch steel plate with a half-inch thickness will cost about $280 or so, and at 0.75-inh thickness the cost rises to about $310 or so.
We checked out an AR500 steel plate measuring 48 by 120 inches with a thickness of 2 inches, and it costs more than $8,400.
Why is AR500 great for shooting targets?
Because it can take lots of impacts from powerful rounds, even from rifles. The steel won't let the bullets through. The steel also won't fracture easily, even with lots of bullets hitting the same general area. It will last you a very long time.