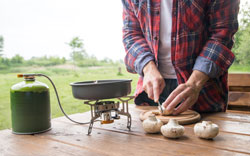 Japanese steel tends to stand out from the rest because of how particular Japanese chefs can be with their knives. Their sushi knives have special requirements to provide the best results so those who want great kitchen knives tend to turn to such options.
Among the most recommended is the AUS10A steel. Considered as a great introductory grade for Japanese knives, the AUS10A is a tried and tested pick that promises dependability. It's considered by some as a better option to the AUS6 and AUS8 steel grades which are more commonly used to make steel knives.
 What is AUS10A Steel?
The AUS10A steel is a high-carbon stainless steel. It's known for its toughness, good level of hardness, and easy sharpening. It's deemed as the strongest among the AUS series steel grades.
Produced by the Japanese steel manufacturer Aichi Steel, the AUS10A is lesser known than the other AUS steel grades but it's gaining quite a bit of attention as of late. Some also refer to this metal simply as the AUS10 steel, with the last letter only referring to the specific manufacturer.
Those who are familiar with the 440C steel wouldn't have a hard time getting acquainted with the AUS10A steel as they have similar components. While the levels are not identical, the performance of the two steel grades are certainly comparable.
Common Uses of AUS10A Steel
Unlike other high-carbon steel grades, the AUS10A is primarily used for manufacturing cutting implements but also for the following:
Knives
Scissors
Medical instruments
Food-grade equipment parts
Heavy machinery
AUS10A Steel Chemical Composition
While often compared to a lot of other steel grades, the AUS10A still has a pretty unique composition that sets it apart from others. It's key components are its Carbon, Chromium, and Molybdenum content which are main contributors for its toughness and hardness.
Carbon, 0.95-1.10%
Chromium, 13.0-14.5%
Molybdenum, 0.10-0.31%
Vanadium, 0.10-0.27%
Nickel, 0.49%
Manganese, 0.50%
Silicon, 1.00%
Carbon, 0.95-1.10%: Metals with high levels of carbon offer better hardness, toughness, strength, wear resistance, and edge retention. These can all be expected with the AUS10A with its high carbon content.
Chromium, 13.0-14.5%: To be classified as stainless steel, a steel grade needs to have at least 10.5% of chromium and less than 1.2% of carbon. The AUS10A ticks both boxes so it can be considered as stainless steel and can be expected to effectively resist staining and rust.
Molybdenum, 0.10-0.31%: The addition of molybdenum further strengthens metal which increases its toughness. It also helps keep the steel's strength when the metal is subjected to high temperatures, making it easier to produce, harden, and manipulate.
Vanadium, 0.10-0.27%: This component also boosts the strength, toughness, and wear resistance of the AUS10A. It's usually present in super steels in high amounts.
Nickel, 0.49%: Also added to increase the toughness of the metal, it helps maintain the strength of the steel when being treated in low temperatures.
Manganese, 0.50%: A good dose of this helps boost the steel's hardenability and wear-resistance.
Silicon, 1.00%: Like manganese, this element strengthens and increases the steel's hardenability so it's easier to manufacture.
 AUS10A Steel Hardness
Among the most notable things about the AUS10A steel is its hardness. Rated at 58-60HRc in the Rockwell scale, a lot of great benefits can be expected from this metal. This is also one of the reasons why it's gaining quite a bit of popularity among knife fans.
Does AUS10A Steel Rust?
With its high chromium content, this steel grade is resistant to corrosion and rust. It wouldn't require strict maintenance to avoid damage from moisture and dampness.
Properties of AUS10A Steel
While most have been mentioned above, here's a more detailed look at the key features of the AUS10A steel:
Toughness
Durability is one of the promises of the AUS10A steel as it's made to be very tough. Many of its components guarantee good tensile strength so it won't easily break when high pressure or impact is applied.
Cracking and chipping shouldn't be a problem with the AUS10A with its high level of toughness. It's more likely to bend and deform, however, instead of shatter.
Hardness
AUS10A's hardness level is also very notable given that it's very tough. Usually, it's one or the other but the creators of this metal were able to balance these two features. As a result, it promises to withstand great impact and keep its edge for long periods of time.
Edge retention
With high levels of hardness, edge retention can also be expected. This means that despite the reduced thickness on the edge, it won't easily get damaged. This also refers to the knife's ability to stay sharp for long periods of time.
Corrosion resistance
As a stainless steel grade, the AUS10A steel also promises good corrosion resistance. It won't rust easily since it has high chromium levels.
A good benefit this feature brings is easier maintenance. Low-chromium steel grades require special handling and maintenance so they can be fussy to have around. Stainless steel knives, on the other hand, can be more convenient to have in the kitchen and for everyday use.
Ease of sharpening
A very interesting point to know about the AUS10A steel is that it's still relatively easy to sharpen despite its hardness. With the right tools and techniques, it's not so dreadful and taxing to sharpen blades that use this material.
AUS10A Equivalent Steels or Alternative
To better understand what the AUS1oA steel is like, here's a quick roundup of other steel grades it's often compared with and possible alternatives to look into.
AUS10A Steel vs VG10
The VG10 is possibly the steel grade that's most commonly compared to the AUS10A since it's way more popular. Since both are Japanese-made metals, it's also not surprising that people pit the two against each other.
However, as anyone who's familiar with the VG10 will know, this particular steel grade is a premium one so it automatically puts the two steel grades in different categories.
While both fall under the high-carbon stainless steel classification, the VG10 is considered as a super steel with its high Molybdenum content. While their hardness levels aren't too far apart, the VG10 is still considered as one of the best stainless steels for cutlery.
VG10 knives are top picks by chefs and serious home cooks for its outstanding quality and easy maintenance.
The greatest edge of AUS10A steel for knife products over the VG10, however, is its price. VG10 is quite pricey so those who are not ready to splurge on their kitchen knives might find AUS10A knives more budget-friendly.
AUS10A vs D2
Another very tough and highly wear-resistant steel grade is the D2. It's more often pitted against the VG10 since both are widely popular high-carbon stainless steel grades.
Compared to the AUS10A, the D2 has a longer legacy since it's been around since 1918. As a tool steel with great wear resistance, it was eventually used for making blades to very satisfactory results.
In terms of performance, the D2 is deemed to be tougher and more wear-resistant to the AUS10A. This explains why it's highly preferred for knife making.
AUS10A Steel vs S35VN
Created by the Crucible Industries as an upgrade to what lots of knife-smiths considered as "the best knife steel available," the CPM S30V, a lot can be expected from the CPM S35VN. Essentially, it's a more needed up version to the premium S30V, promising improved toughness, wear resistance, edge retention, and corrosion resistance.
While the AUS10A is also a high-carbon stainless steel, the high levels of molybdenum and vanadium in the S35VN sets it far apart from other steel grades.
AUS10A vs CTS BD1
Deemed as a low-end steel grade that is used for entry-level knives, the CTS BD1 is another steel grade that has a similar composition to the AUS10A. The two only really differ in their vanadium and silicon levels so it can be expected that they have similar performance.
The best thing about the CTS BD1 is that it's very affordable and widely available. It might be easier to source outside Japan compared to the AUS10A.
 Is AUS10A Steel Good for Knives?
Is using AUS10A steel for knife products a good idea? Like what was mentioned above, this specific steel grade series is already widely used for manufacturing high-quality knives and other cutting tools.
Some experts say that knife-smiths also find the AUS metals to have all of the features that are highly sought-after in knifemaking. So being the toughest in the series, it can be assumed that the AUS10A steel is suitable for creating knives.
Pros & Cons of AUS10A Steel
Pros
High level of hardness makes it capable of taking on rough use
Despite being very hard, AUS10A steel knives are still easy to sharpen
Often recommended as a more affordable alternative to the premium VG10 steel
High machinability makes it an attractive option for custom knife making
Rust-resistant so maintenance is relatively easy
AUS10A blades can get very sharp and can stay that way for a long time
Suitable for use with food
Cons
Not all kinds of sharpening tools are recommended to be used on AUS10A steel knives
Best AUS10A Steel Knives
What are the best AUS10A steel knives like? Which ones are worth looking into? Here are some picks that can prove the charm and appeal of this charming metal.
#1: Shun Kanso 3.5-Inch Paring Knife
Quick Specification
Item Dimensions: 8.25 x 0.75 x 0.88 inches
Handle Material: Tagayasan(Wenge)
Blade Material: High Carbon Stainless Steel
Blade Edge: Plain
Steel: AUS10A—high-carbon, vanadium stainless steel
Handle: Contoured tagayasan wood
Blade length: 3.5 inches
Handcrafted in Japan
As mentioned above, the AUS10A steel is highly suitable for kitchen knives and the Shun Kanso 3.5-inch Paring Knife is a good example.
Paring knives require very sharp blades to take on slicing tasks that require utmost precision. Since the AUS10A steel can get very sharp and capable of holding its edge for a very long time, it makes this product a solid choice for many. Paired with its expert design, it suits the demands of highly skilled cooking experts.
Handcrafted in Japan, this knife is manufactured using traditional techniques so it's quality can easily be set apart from its competition. With its friendly price tag, it's practically a score so it can really be an appealing option for many.
Pros
Handcrafted and manufactured according to ancient Japanese knife-making traditions
Beautiful design
High-performing blade
Can stay sharp for a very long time
Very friendly price
Cons
Handle design isn't necessarily ergonomic
Some reports of issues with the material of the handle
#2: Shun Cutlery 4-Piece Kanso BBQ Set
Quick Specification
Product Dimensions: 20 x 1 x 8 inches
Item Weight: 1 pounds
Blade Length: 5 in. (127mm)
Blade Steel: AUS10A
Blade Steel: Layers 1 layer solid steel
Blade Edge: Non-Serrated
Handle Material: Tagayasan(Wenge)
Designed for the traveling BBQ chef is the Shun Cutlery 4-Piece Kanso BBQ Set. Despite its name, it only has 3 knives included, the fourth piece in this set is the nylon knife roll that functions as storage and carrier of the three other knives (5″ honesuki, 6″ boning/fillet knife, and 12″ brisket knife).
Aside from the high-performing blades the knives come with, the choices are thoughtfully picked out to provide great efficiency and convenience to users. The details of this set are also noteworthy as they add a nice flourish to the overall appearance of the products.
Like the other Shun product above, this set is also handcrafted using traditional techniques so it promises top-notch quality.
Pros
Comes with a limited lifetime warranty
Handles are made from the same wood used to make Samurai swords back in the old days
Reasonably priced
Beautiful appearance
Highly functional and easy to handle
High-quality accessories
Cons
Reports of handle issues
Some find these knives a bit on the heavy side
Conclusion
If there's one thing this AUS10A steel review proved, it would be that this steel grade deserves more attention than what it's getting right now. With its high-performing qualities and great features given its friendly price tag, lots are missing out on what this steel can do for them.
Want to add a few more details about the AUS10A steel? Don't hesitate to share them in the comments.