When you're looking to evaluate a knife, the first thing you check out is the material used for the blade. This is the most crucial factor that best defines the knife's performance and limitations. So. What does it mean when your knife blade is made with N690 steel?
With this guide, you will get a comprehensive answer to that question. You will discover its features, advantages, and potential drawbacks, and even examine its chemical composition. We will directly compare the N690 steel to other somewhat similar steels, and even give you a list of the best N690 steel knives available out there.
What is N690 steel?
The N690 steel is a type of stainless steel, and it is martensitic. That means it's a type of stainless steel that can be hardened and tempered through many types of heat and aging treatments. It contains a significant amount of carbon for hardness, plenty of chromium for corrosion resistance, and a special blend of cobalt, molybdenum, and vanadium that leads to a fine edge that keeps its sharpness for a long time.
The N690 steel comes from the Bohler company in Austria, though it's now known as Bohler-Uddeholm. This is a fairly popular steel for knives, especially for European knifemakers.
Common Uses of N690 steel
Many different tools use N690 steel for their components. These include:
Pocket knives
Hunting and outdoor knives
Rotary knives for the meat procession industry
Cutting surgical tools
Corrosion-resistant roller bearings
Plate and knife-edge fulcrums
Pistons and valve needles for refrigerators
N690 steel Chemical Composition
Let's take a closer look at the N690 recipe:
Carbon, 1.07%
Cobalt, 1.5%
Manganese, 0.4%
Molybdenum, 1.1%
Vanadium, 0.1%
Silicon. 0.4%
Carbon, 1.07%: Many consider carbon as the most crucial element in any steel alloy. This is quite a lot of carbon, which explains its good wear resistance and edge retention. But it doesn't go overboard, so you still get decent toughness while the edge is still relatively easy to sharpen.
Chromium, 17%: The chromium level puts the N690 firmly in the stainless-steel category, as this group only requires a minimum of 10% to 122% chromium. With this amount of chromium, you get excellent corrosion resistance that makes the blade good for outdoor work.
Cobalt, 1.5%: The cobalt here allows for higher hardness, especially at higher temperatures. It also somehow magnifies the effects brought on by the other elements.
Manganese, 0.4%: This is only a rather average amount of manganese, as most steels contain at least 0.3%. But it's very important, next only to carbon itself. It boosts the tensile strength and hardenability of the steel, and it also helps to take out the oxygen bubbles and the sulfur impurities.
Molybdenum, 1.1%: When added to stainless steel (like in this case), the molybdenum helps with corrosion resistance. It also boosts creep strength and strength in higher temperatures, and improves hardenability. The molybdenum content here is quite significant, since normally steels get less than 1% molybdenum.
Vanadium, 0.1%: This is actually a lot of vanadium, because when you have more than 0.05% vanadium, there's a greater chance that the steel will become brittle during the treatment for thermal stress relief. The vanadium works with the other elements to refine the grain size and limit the grain growth. It also improves shock loading resistance, fracture toughness, and hardenability.
Silicon. 0.4%: This also helps to take out oxygen bubbles from the molten steel. It boosts the strength and hardness of the alloy, though not as much as manganese does.
N690 Steel hardness
This depends a lot on the heat treatment that the brand does for the steel. But if you go with a good brand, you may be able to reach about 58 to 60 HRC.
That's not as hard as what you'd get from the premium and ultra-premium super-steels, but it's good enough for most people. Also, it's not too hard so you have an easier time sharpening the blade, and it's not too brittle as well.
Does N690 steel rust?
All knives can rust, given the right (or wrong, to be more exact) conditions. However, the N690 is stainless steel, and it won't rust very easily. You won't have to oil this constantly, as it's made to work even in wet conditions.
Just keep it dry after use, and you should be fine. You may want to keep this away from saltwater, though. The saltwater eats away at the protective layer than keeps the steel safe from corrosion.
Properties of N690 steel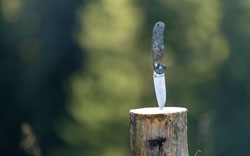 One of the reasons why N690 is popular and favored by many brands is that it offers all-around good performance in all the key areas that matter to most users. Add the fact that it's fairly affordable, and you'll get great value for your money.
Good Cutting Performance
The N690 will do the job, especially for EDC. That means it won't have trouble cutting open various types of packages and cutting off plastic tags. It can even cut rope if you have a hunting knife, or you can carve wood with it.
Respectable Edge Retention
While its edge retention won't be as great as with the super steels, with the N690 it's not as if you'd need to sharpen the edge every day. You can get by using the knife for the whole day without sharpening the blade. You also aren't likely to need to sharpen the blade in the middle day of the day, which can be inconvenient when you're outdoors camping or hunting.
Decent Toughness
One of the main problems with super-hard steels in general is that as the hardness rating goes up, the toughness rating goes down. But since it's not extremely hard, the N690 steel offers decent toughness. That means it's not too brittle and won't easily chip off.
Easy Enough to Sharpen
In this area, the N690 is above average. Even newbies should have no trouble sharpening the blade. A basic Arkansas stone will do, and it won't take you long to get a sharp edge again.
With the harder steels, you might need diamond-plated stones, or even more specialized equipment. And even then, you'd need both the sharpening experience to get things right, plus it'll take a while.
Excellent Corrosion Resistance
This is one area in which the N690 is better than many other alternatives out there. It's a type of stainless steel, so you won't have to worry about rust spots when you use this in wet conditions. You won't have to keep this blade oiled to keep corrosion at bay.
Reasonably Affordable
You get this good all-around package and yet you don't have to pay a lot to enjoy these benefits. Again, it's one of the main reasons why the N690 steel is popular and highly regarded.
N690 Equivalent Steels or Alternative
Let's compare the N690 to a bunch of other steels that many also consider as terrific all-around performers.
N690 steel vs 440C
The 440C is an upper mid-range steel that's also been long regarded as a good all-around steel. It's also stainless steel, with good performance for edge retention, wear resistance, toughness, and ease of sharpening.
The main thing here is that the N690 is simply better. The 440c is perhaps just as tough and as easy to sharpen as the N690. But the N690 holds its sharp edge for longer, and it also does better at resisting corrosion.
N690 steel vs S30V
Now this is a rather unfair comparison. Sure, the S30V is also among the best all-around performers and considered among the steels that offer the best bang for the buck. That's why it's so popular.
But S30V is a premium steel, with terrific cutting power, edge retention, and wear resistance that are all better than what you get with the N690 steel. It's even tougher than the N690
The S30V is a bit harder to sharpen, but that's not really a problem for most experienced knife owners. The S30V also scores the same for corrosion resistance. Really, the only thing that stops people from switching from N690 to S30V is that they have to pay extra for all these benefits.
N690 steel vs M390
The M390 is also widely recognized as the best steel all-around, if you ignore its price. It's good at everything, and it's among the best of the higher end knives. But just keep in mind that it's part of the "ultra-premium" super-steel lineup, and it's certainly not cheap.
Its edge retention is among the best of all steels, and simply outclasses the N690 by a wide margin. At the same time, it's somehow tougher than the N690. That means the N690, while softer, is still more likely to chip off than the M390. Its corrosion resistance level is also equal to the N690.
Aside from the price, the main drawback with the M390 is that it's significantly more difficult to sharpen. But even here it's notably better to sharpen than the other super steels.
N690 steel vs VG10
When some people try to describe the N690, quite a few people say that "it's just like the VG10". The VG10 scores the same when it comes to all the crucial factors: edge retention, toughness, ease of sharpening, and corrosion resistance. It's a dead-tie.
However, in some cases you may find the VG10 holding its sharp edge longer, but in this case the N690 steel will be just a bit tougher.
N690 steel vs D2
The D2 has also been considered a good all-around steel, but that was by the standards of the WWII era. For its time, it's extremely hard and even today it holds its edge far better than most steels. It's certainly better than the N690 in this regard. At the same time, it's also tougher than the N690.
However, because of the hardness of the steel, the D2 is a lot more difficult to sharpen. You actually have to be an expert blade sharpener to do a good job sharpening D2 steel.
Also, the D2 is only a "semi-stainless" steel. It's not as resistant to corrosion as the N690.
Is N690 steel good for Knives?
Yes, it's good for knives. It's an all-around steel that performs well in various areas. That's to say, it gives you good cutting performance, edge retention, and wear resistance.
Yet it's not that difficult to sharpen, and it's still tough enough that it won't chip off easily. It's also quite corrosion-resistant, making it a good choice for outdoor activities and wet environments.
It's even fairly affordable. So, you don't have to pay through the nose to enjoy these benefits. N690 knives are actually quite popular, and you may even find brands that use only N690 steel for their knives. That's probably proof enough on its own that N690 is indeed a good steel for knives.
Pros & Cons of N690 steel
Pros
Respectable edge retention
Decent toughness
Reasonably easy to sharpen
Excellent corrosion resistance
Affordable
Cons
Some steels are better all-around, for only a few dollars more
You will steel need to sharpen the edge fairly regularly
Best N690 steel Knives
#1: Boker 120620 Savannah Boot Knife
Quick Specification
Type: Fixed Blade
Overall Length: 8.98 in
Blade Length: 4.57 in
Blade Thickness: 0.13 in
Weight: 6.70 oz
Designer: Armin Stütz
Blade Material: N690
Handle Material: Micarta
Lock Type: Fixed
Made in: Solingen, Germany
Sheath Material: Leather
This was developed in consultation with professional rangers, and with their African big game hunting experiences in mind. This is a serious knife with professional-grade construction, built with meticulous care. It's really meant for outdoor work, and not for EDC.
It's even gorgeous to look at, with the two-tone mirror finish for the blade and the unique grooves on the canvas Micarta scales. In fact, quite a few owners say that it might be too pretty, because you may hesitate to use and abuse it. You may be tempted to just look at it and enjoy the exquisite aesthetics.
Yet you should use this for hunting and outdoor activities, because those are its true purposes. That's why the N690 steel was used in the first place.
This is a fixed knife that measures 9⅜ inches overall, with the blade measuring 4⅝ inches. This is meant for tough cutting tasks, and its full tang design gives you the stability and strength you need. At its size, you get the balance you need for control while you're able to cut through stuff efficiently.
This weighs 7.8 ounces, which is reassuringly solid. The perfect weight distribution does make it seem lighter, and easier to use. The knife blade goes where you want it to go (which is always a good thing).
Even that unique-looking micarta handle wasn't built for just its looks. Those elaborate grooves offer an extremely secure grip.  You get a sure hold of your knife even when working in wet conditions, or when you're wearing gloves.
This doesn't come with a boot clip, but you do get a leather sheath. This leather sheath is nice enough, but it's of average quality compared to the superb quality of the Boker 120620 Savannah Boot Knife. It's not really bad (it's quite good, actually), but the knife itself is just terrific.

Pros
Made with professional rangers for big game hunting
Gorgeous
Perfect weight distribution
Superbly secure grip even with gloves or when wet
Comes with a sheath
Cons
May be too pretty to be abused
Sheath isn't as good as the knife itself
May be too large for EDC
#2: Kizer DUKES, Folding Pocket Knives, V3466N2
Quick Specification
Blade Material: Stainless Steel
Handle Material: Fiberglass
Blade Shape: Clip Point
Overall Length: 7.18 inch(18.24 cm)
Blade Length: 3.00 inch(7.63cm)
Weight: 2.66 oz(0.17 pounds)
There's a version of this that uses the VG-10 steel for the blade, but obviously we picked the N690 variant. It also comes with a pocket clip for easier carrying.
We went with the black and red G-10 handle, which measures 4⅛ inches long and less than half an inch thick. The handle offers a nice, secure grip, thanks to the milled ridges in the handle scales. The whole knife weighs just 2.64 ounces.
This comes with a stainless-steel liner, which keeps the blade from opening accidentally. It's easy enough to open the flipper knife with one hand, extending its overall length to 7⅛ inches. The blade itself is exactly 3 inches long, which should comply with EDC laws in many areas.
The blade features a standard drop-point style, with a plain edge, hollow grind, and satin finish. It has a slight recurved shape for improved effectiveness. There's a sharpening choil as well. When you open the knife, the blade locks into place to prevent it from closing accidentally.
This is your basic, no-nonsense folding knife that does your EDC tasks with no fanfare. It just gets the job done.

Pros
Lightweight and compact for easy carrying
Milled ridges offer a secure grip
Sharpening choil makes sharpening easier
Can be opened quickly with one hand
Blade locks when open
3-inch blade length complies with typical blade length laws
Cons
It may mess with your pocket
#3: Kizer Begleiter2, Folding Pocket Knife
Quick Specification
Blade length: 3.42″(87mm)
Overall length: 7.87″(200mm)
Weight: 3.25 oz.(92g)
Blade Material: N690
Handle Material: Carbon Fiber
Blade Shape: Drop Point
Pocket Clip: Deep Carry
The word begleiter is the German equivalent of "companion" and that may be its role when you get the Kizer Begleiter2. This uses the N690 steel with a black titanium coating, along with a green micarta handle.
When open, the whole knife measures 7.87 inches long. The drop-point blade accounts for 3.42 inches. The whole knife weighs just 3.25 ounces. The knife feels very balanced in your hand, giving you terrific control.
With the thumb stud openers, this is safe to handle even if you tend to fidget with it. With its ball bearings, the flipping action is smooth and fast.
It comes with a pocket clip for deep carry, as the knife can sit low in your pocket. The clip is also reversible, meaning you can carry the knife in your right or left-side pocket.
Yes, the Kizer brand is actually Chinese. But this is superbly made, with painstaking attention paid to quality control. Everything works perfectly, and the superb balance proves that it's a knife you'll actually want to use every day.

Pros
Allows for deep carry for both right and left-side pocket
Ball bearings offer quick and smooth opening
Terrific weight balance
Fidget-friendly
Cons
Made in China (even if the quality control is terrific)
Conclusion
It's true that the N690 steel is a medium-quality steel. It's certainly not one of the ultra-premium super steels.
But for some people, that makes it better. It's good at all the factors that matter to knife users. It provides good cutting performance, edge retention wear, resistance, and toughness. It's easy to sharpen, and it's nicely corrosion-resistant.
The price is just right, it'll get the job done, and it'll last you a while. Try it, and there's a good chance that, like so many others, you'll end up liking the N690 steel knife.