The blade metal in the knife is like the engine of a car—in many ways, it's the most important factor. And if you have Elmax steel for your blade, it's like having a monstrous engine for your muscle car.
You have a super knife in your hands, because Elmax is widely considered as a super steel. It's right up there at the ultra-premium tier of all the metal alloys used for knife blades.
With this guide, you'll find out how it deserves this title, and why no list of the "best all-around" steel for knives is complete if it doesn't contain Elmax steel.
What is Elmax steel?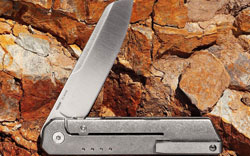 Elmax steel comes from the Uddeholm company, which is now known as Bohler-Uddeholm because of the merger with Bohler (which also makes super steels for knives. The Elmax steel is a powdered carbon steel, noted not just for its high level of carbon but also for using significant amounts of chromium, vanadium, and molybdenum.
Taken together, all these elements combine the best of what carbon steels and stainless steels have to offer. Elmax steel is a super steel that offers both astounding hardness with good corrosion resistance. At the same time, it also minimizes the traditional drawbacks that inherently come with super-hard steels. This includes higher than usual toughness, which normally goes down whenever hardness levels rise.
Common Uses of Elmax steel
Basically, it's great for outdoor knives and EDC knives. You can find Elmax steel in:
Survival knives
Tactical knives
Bushcraft knives
Hunting knives
Camping knives
EDC folding knives
Fixed blade knives
Elmax Steel Chemical Composition
Carbon, 1.7%
Chromium, 18%
Manganese, 0.3%
Molybdenum, 1%
Silicon, 0.8%
Vanadium, 3%
Carbon, 1.7%: Carbon is the main element that determines hardness, which is why carbon steel is so highly regarded. Carbon steels with 1% carbon are already considered very hard, which explains why the 1.7% carbon here is so significant.
Chromium, 18%: Chromium can help with boosting the yield strength of the steel, and also improves its hardenability. But here there's enough chromium to really improve its corrosion resistance. Stainless steel must have at least 10% to 12% chromium, and there's more chromium here.
Manganese, 0.3%: The manganese is important in steel alloy, next only to carbon. It works with carbon in many ways, and also improves the machinability and hardenability of the steel. It also helps with removing certain impurities in the steel. There's not much manganese, though, because too much manganese with carbon can make the steel brittle.
Molybdenum, 1%: This is often used with both manganese and vanadium, improving the steel's hardenability and corrosion resistance. It also increases the steel's creep strength and strength in high temperatures.
Silicon, 0.8%: Silicon is also a deoxidizer, which means it takes out oxygen bubbles while the steel is still in its molten state. The silicon also strengthens the iron it dissolves into. With silicon, you get improved hardness and strength.
Vanadium, 3%: Its effects are similar to molybdenum, manganese, and carbon. It improves wear resistance and resistance to fatigue stress.
Elmax Steel Hardness
Elmax steel can be very hard indeed, reaching up to 61 to 62 HRC. In practical terms, it will retain its sharp edge for a very long time, though you may have to use diamond-plated stones to sharpen the blade when its edge eventually goes dull.
The hardness of Elmax steel is so high that it qualifies the steel for supersteel status. Very few knife steels out there are harder.
Properties of Elmax steel
Here are the most notable features of Elmax steel:
Extremely Hard
Sharpen it properly, and it can cut easily through various materials. Its hardness is virtually unmatched by all but a handful of other steels.
Fantastic Edge Retention
This is one of the benefits of its hardness. Even if you use the blade constantly, it will take a very long while before you will need to sharpen this. In fact, some casual users of Elmax steel knives (who don't use their knives daily) say that their blade sharpness remains the same—even after an entire year.
Good Corrosion Resistance
This is a type of stainless steel too, with this much chromium in the mix. It won't rust easily, even if you get it wet every day.
Still, you need to take care of it properly. That means you use your common sense and you don't just leave it wet each day. Also, it may not do as well with saltwater.
Surprising Toughness
With very hard steel, you generally get poor toughness. That means your hard steel is normally more prone to brittleness. If you don't use your hard steel properly, it's more likely to chip off.
But somehow, the toughness of the Elmax steel is very reasonable. It's not too brittle at all. While it's still not quite tough enough to work well for your axes (for which softer but tougher steels are better), the Elmax steel is still less likely to chip off than other comparably hard steels.
Moderately Hard to Sharpen
It's true that the softer steels are also easier to sharpen. With Elmax steel, a basic Arkansas stone just won't do.
Yet compared to other super steels, Elmax is pleasantly easier to sharpen. True, it will take a diamond-plated stone for the job. But it will take you a shorter and easier time to complete the sharpening. With the other super steels, sharpening is a frustrating process and sometimes even virtually impossible unless you have a sophisticated sharpening system.
Elmax Equivalent Steels or Alternative
There are quite a few terrific steels around that can compare with Elmax steel and not look overly pathetic in comparison. Here are some good steels you may also want to consider, and you can check out how Elmax steel compares with them.
Elmax Steel vs S30V
The CPM S30V is a premium steel that's also quite well-known, and it also offers terrific hardness and edge retention. It also has good resistance to corrosion. But many say it's not as good as Elmax, which is an ultra-premium steel.
The Elmax steel is slightly better at edge retention and wear resistance, as expected. At the same time, Elmax is also somehow tougher than S30V. Even though the Elmax is harder, it's less likely to chip off.
But to compensate, the S30V is somewhat easier to sharpen. Also, the S30V corrosion resistance is actually better.
Elmax Steel vs S35VN
The S35VN is supposedly a superior version of the S30V, as it's easier to machine. It's also supposed to be a bit tougher and even easier to sharpen.
But the truth is that for most people, there's really not much of a distinguishable difference between S30V and S35VN.
So, the S35VN compares almost exactly the same with Elmax steel. The S35VN isn't at good at edge retention and wear resistance, although you might say that it's just as tough as Elmax. The S35VN is also easier to sharpen and more resistant to corrosion.
Elmax Steel vs M390
Now the M390 is another supersteel. In fact, the M390 might even be better in edge retention and wear resistance. It's just as tough as the Elmax steel, too. But the M390 is much harder to sharpen. Also, while the M390 corrosion resistance is very good, it's not as good as with the Elmax steel.
Elmax Steel vs CPM 3V
If you're looking for an all-around choice with a greater emphasis on toughness, then the CPM 3V is a terrific choice. Yes, the Elmax is harder and thus better at retaining its sharp edge and resisting wear.
The CPM 3V equals the corrosion resistance of the Elmax steel. But the CPM 3V is also easier to sharpen. But what really sets the CPM 3V apart is that it's extremely tough, even though it offers great hardness. It's very unlikely for it to chip off.
Elmax Steel vs D2
The D2 steel has been used for knives since World War II, and it's still popular today for good reason. Its edge retention and wear resistance are not as good as the Elmax steel, but then again, it's easier to sharpen. They're equally tough, though the D2 steel isn't as resistant to corrosion. In fact, you may want to keep your D2 blade oiled.
Is Elmax Steel Good for Knives?
This question is like asking if Superman is a strong superhero. The answer is quite obviously yes, it is a good steel for knives. In fact, describing Elmax steel as merely "good" is almost criminally understating the case. It's a super-steel, making it among the best steels for knife you can find in the world. Plenty of experts even regard it as the best all-around steel for a knife.
The Elmax steel is hard, with terrific edge retention and wear resistance. Then add its corrosion resistance, and you have a winner. What really sets it apart is that, somehow, it's also quite tough despite the hardness and it's not as difficult to sharpen as the other super-steels.
Pros & Cons of Elmax steel
Pros
It's very hard, with terrific cutting ability
It maintains its sharp edge for a very long time
You get good corrosion resistance
It's quite tough for a hard steel
It's also not impossible to sharpen, unlike other supersteels
The steel can last for years (or decades)
Cons
It's not really easy to sharpen, compared to most other steels
It doesn't match the toughness of most of the softer steels
Elmax is an ultra-premium steel, so it's not exactly a budget option
Best Elmax Steel Knives
Since the Elmax steel is in the ultra-premium category, you may find quite a few expensive Elmax steel knives out there. We picked the best ones with the more reasonable prices, to make sure you get full bang for your money.
In addition, it's not just the blade steel that determines the overall quality of a particular knife. Check out what we mean with our list of the best Elmax steel knives we've listed.
#1: Enzo Trapper 115 Fixed Blade Elmax BRI2066
Quick Specification
Weight: 135 grams
Blade height: 2.6 cm
Blade length: 11.3 cm
Length: 22.6 cm
Blade thickness: 0.35 cm
Handle length: 11.1 cm
Overall: 22.55 cm
Blade: 11.43 cm
Material handle: micarta
Type of steel: Elmax
Country of origin: Finland
At first glance, this seems like a rather simple design for a knife. That's especially true for a knife that costs almost a couple of hundred bucks. But then it's Elmax steel, which explains a lot about the price. Also, just about everyone who has bought this has raved about it, without any complaints whatsoever.
This fixed blade knife comes with an intermediate size, measuring 8⅞ inches long overall with the blade at 4.5 inches long. It's 3.5mm thick at the back, which helps with prying things open. But this is more of a bushcraft knife, with a simple design and a standard edge that really works.
This comes with a green micarta handle with a satin finish, and the full tang build really sets it working. The handle absolutely feels right in your hand, so it's great to work with. This comes with a brown leather belt sheath, with the handle also featuring a lanyard hole.
The knife is sharp even out of the box, and it stays sharp like any Elmax steel would.

Pros
Sharp out of the box
Great feel when held
Nice thickness
Good for outdoor work
Comes with a sheath and a lanyard hole
Cons
Doesn't really look impressive
Not cheap, even if it does seem like a budget option at first glance
2: DROP + Quiet Carry the IQ – Minimalist Titanium Folding Pocket Knife
Quick Specification
Blade length: 2.9 in (7.4 cm)
Blade thickness: 0.1 in (2.5 mm)
Body length: 3.8 in (9.6 cm)
Open length: 6.7 in (17 cm)
Handle thickness: 0.35 in (0.9 cm)
Weight: 2.2 oz (62.4 g)
Blade grind: Flat
Handle: 6AL4V titanium
Hardware: 416 stainless steel
Count yourself lucky if you're able to buy this, since it's so popular that sellers run out of stock quickly. The Quiet Carry brand has always been about minimalist design, and this iQ model is a terrific example.
This flipper knife is perhaps the most compact knife ever that has come out of the Quiet Carry labs. It's only 6.7 inches long when open, and the body is only 3.8 inches long and 0.35 inches wide. The 6AL4V titanium handle also has a unique knurling pattern on one side that you won't find in other knives. This pattern also gives you a better grip.
The overall weight is just 2.2 ounces, so you may not even notice its weight in your pocket. You also have a deep-carry titanium clip. The handle won't snag in your pocket, as one side (the side opposite the knurling pattern) is smooth.
If you live in a place where flipper knives can't have blades longer than 3 inches, then you're in the clear. Here, the blade (made of Elmax steel, obviously) is only 2.9 inches long. You have ceramic bearings, a titanium liner lock, and a subtle flipper tab, it's no trouble to deploy.
It's true that the Quiet Carry brand has only been around since 2014, but they sure have made a splash in the industry with their minimalist approach. This is about getting things done, and not about useless flourishes in knives. But it does look good with its all-black look.

Pros
Great for EDC
Knurled titanium handle on one side for surer grip
Smooth handle side to prevent snagging on clothes
Extremely lightweight
Very compact
Comes with titanium deep-carry clip
Complies with legal blade length restrictions
Opens and closes smoothly
#3: Bark River JX6 Companion Elmax Green BA10142MGC
Quick Specification
Package Dimensions: 8 x 2 x 1 inches
Weight: 1 Pounds
Overall Length: 7.2 inches
Blade Length: 3.25 inches
Finish: Satin
Brown leather belt sheath
Now this doesn't look like a conventional knife at all. This is a hunting companion knife, when you need a smaller knife for skinning and other cutting tasks outdoors. But it also works great for EDC. Just remember to get the Elmax version, as other versions of this model use other metals like CPM 154 for the blade.
Here you have that pronounced cutting curve that the designer Chris Tanner is known for. But this time it's been ground higher, to boost the cutting power of the rather small blade. The blade is only 3⅝ inches long, with a cutting edge of 3⅛ inches. It comes with a full convex grind, which works for most bushcraft tasks.
Its ⅛-inch thickness is just right, as it's not too thick at all. At the same time, it's thin enough for slicing and skinning.
The handle is made with micarta, with a rougher texture for a surer grip. That particular handle profile also helps to secure your grip as well. You can have a secure grip even when the knife is inside the abdominal cavity of a game animal.
All in all, it's a great companion knife in the bush. You don't want this to be your only knife when hunting, but you don't want to leave home without it either. And at home, it works for EDC well enough.

Pros
Small enough for smaller game
Works for skinning nicely
Great feel for the handle
Comes with a sheath
Also works for EDC (like opening packages)
Cons
May be a bit too big for really small game animals
Not really best as your sole hunting knife
#4: Bradford Knives G-Necker Fixed Blade Knife
Quick Specification
Overall Length: 6″
Blade Length: 2.875″
Handle Length: 3.125″
Handle Thickness: .260″
Blade Thickness: .160″
Weight: 2.7 Oz
Blade Material Options: ELMAX
Hardness: 61 Rc
Blade Type: EDC
As the name indicates, this is best used as a neck knife for outdoor fun. Use it with some black paracord along with its Kydex sheath, and you're good to go. The Kydex sheath it comes with also works with the Mini Tek-Lok and the G-Clip.
The fixed blade knife is only 6 inches long (with the blade measuring 2⅞ inches), and it only weighs 2.7 ounces. Even with the Kydex sheath, it doesn't weigh much at all at 4.1 ounces. The skeletonized handle cuts down on the weight.
The tip of the edge is a bit thicker, which makes it stronger. The rounded back of the handle lets it sit deep in your palm when you're using the knife.
Just keep in mind that this is a small knife, with the handle only measuring 3⅛ inches long. If you have a large hand, then you may only fit in maybe 3 fingers on the handle.

Pros
Meant for neck carry
Very lightweight
Blade length less than 3 inches
Good for hunting and camping
#5: Bark River Mini Tundra Elmax Burgundy BA18041MBU
Quick Specification
Blade: 3.95 inches
Weight: 3.9 ounces
Thickness of ⅛ of an inch
Handle: Micarta
Elmax steel
You may be forgiven if you mistake this for a kitchen knife at first glance. But actually, it's a compact knife meant for outdoor use. You get a convex grind for the Elmax steel, along with a full tang and wide middle section for better control. You also have a micarta handle.
When you're using it, you have the straight edge of the blade for working with wood, while the forward belly works for skinning and other hunting tasks. The blade itself is 3.95 inches long, with a thickness of ⅛ of an inch. It only weighs 3.9 ounces.

Pros
Compact design
Great as a hunting companion knife
Comes with leather belt sheath
Premium quality with all parts made with precision
Easy to control
Cons
Works best with a larger hunting knife
Conclusion
Pick any of the Elmax steel knives on our list, and you can never go wrong. The Elmax steel is fantastic for EDC and hunting, as it combines hardness and corrosion resistance with a reasonable level of toughness. You may have to work a bit on sharpening it, but at least it won't be overly frustrating.
With the Elmax steel resistance to wear, you basically have a knife that can last you a lifetime. It's a fantastic steel that you can absolutely trust, and a popular candidate for the best all-around knife steel.
Frequently Asked Questions
Does Elmax steel rust?
Yes, if you don't take care of it. It may be stainless steel, but that only means it offers good corrosion resistance. That doesn't mean it's completely imperious to rusting.
This is especially true if you use the Elmax steel in high humidity areas or with highly corrosive cleaners. Even using it regularly in saltwater can be problematic, because the saltwater can remove the protective chromium-oxide layer against corrosion.
To put this in simple terms, just wipe the Elmax steel blade down after you use it in wet conditions. And do try to minimize using it in saltwater. It's just not made for saltwater use.
Is Elmax hard to sharpen?
That depends on which steel you're comparing the Elmax steel to. Generally, the Elmax steel is harder than almost all the steels out there. That also means the Elmax is harder to sharpen than those softer steels. You can use a basic Arkansas stones for the softer steels, but that won't work with the Elmax.
But when compared to the other supersteels, the Elmax is actually easier to sharpen. Sure, you will need a stone plated with tiny diamonds. Use that, and you will sharpen your Elmax knife in a shorter time compared to when you sharpen the other supersteel knives.
How to tell if knife really Elmax steel
Unless you somehow have the equipment needed to check the chemical composition of the blade steel, there's no way for you to be absolutely certain.
But then again, you can be reasonably sure if you're checking out a knife made by a reputable company. If it's a fairly well-known brand, then chances are very good that if they say the blade is made with Elmax steel, it really is.