Complex steel with unique manufacturing techniques may be very impressive but it doesn't mean that simple steels are not noteworthy. In fact, a lot of them can actually be more surprising as they can offer great performance despite not their straightforward make.
The 65Mn carbon steel is a good example of such as despite its simplicity, it still manages to impress and win over users. Offering great value, many would find this steel grade suitable to their needs if not interesting. Learn more about it in the 65Mn carbon steel review below.
What is 65Mn Carbon Steel?
As its name suggests, the 65Mn carbon steel is a high-carbon steel grade. It's classified as a Chinese GB standard spring steel grade which is the national standard classification for steels in the said country. The 65Mn is said to belong in the high-quality alloy spring steel category.
Being a spring steel, the 65Mn promises high yield strength, making it durable but also pliable. Lots of people also note that the 65Mn has high hardenability and with good heat sensitivity. It's considered as a general use steel as well so it's quite versatile.
Common Uses of 65Mn Steel
Since this steel grade is a spring steel, the 65Mn is suitable for use for a wide range of applications. Here are a few that it's most commonly utilized for:
Clockwork
Small-section flat springs
Round springs
Spring rings
Shock absorbers
Clutch reeds
Brake springs
Sword blades
Knives
65Mn Steel Chemical Composition
The 65Mn carbon steel is not a complicated steel grade so it can be expected that it has a very simple chemical composition. Its key components are already hinted at in its name – manganese and carbon – so users can quickly know what it has to offer.
Carbon, 0.62-0.70%
Manganese, 0.90-1.20%
Silicon, 0.17-0.37%
Phosphorus, 0.030%
Sulfur, 0.030%
Chromium, ≤ 0.25%
Nickel, 0.35%
Copper, 0.25%
 Carbon, 0.62-0.70%: Classified as a carbon steel, it can be expected that the 65Mn has a good amount of this element. It's not a very high amount but it's already enough to categorize the said steel grade as a high-carbon steel. It helps make the steel hard and strong enough to suit various purposes.
Manganese, 0.90-1.20%: Another key component of steel is manganese. It helps speed up the cooling rate of the steel during hardening which increases its hardenability. It also enhances the hardness and strength in the steel.
Silicon, 0.17-0.37%: Like manganese, silicon also adds strength and hardness to steel but to a lower degree of what the other element can do. It also works as a deoxidizer which helps improve the quality and performance of the steel.
Phosphorus, 0.030%: A beneficial addition to steels with low carbon content, phosphorus also adds strength and hardness to the steel. It also enhances the machinability of steels and improves its resistance to corrosion.
Sulfur, 0.030%: Sulfur is not always a desirable component in steel but since it can help improve machinability, it can still come in handy in many steel blends.
Chromium, ≤ 0.25%: At high amounts, chromium is best known for adding corrosion resistance to a steel mix. However, for the 65Mn, it doesn't contain enough chromium to effectively keep staining and rusting at bay. It still adds some hardness to the blend, however.
Nickel, 0.35%: This element is an attractive addition to any steel blend as it can bring a lot of benefits to the finished product. For starters, it increases steel hardenability and enhances the toughness of the steel. It also adds some hardness and strength which is quite a unique feature.
Copper, 0.25%: Usually added in very small amounts in steel blends, the copper in 65Mn helps enhance its corrosion resistance while adding more strength and creating finer ferrite grains.
65Mn Steel Hardness
One of the interesting things about the 65Mn steel is that it doesn't really get very hard. It's rating in the Rockwell hardness scale is 28-34 HRc which is definitely not a lot. However, with its high hardenability, it can still be processed to be used as a functional blade steel.
Does 65Mn Steel Rust?
Because the 65Mn steel is not stainless steel so it should be expected that it doesn't have high resistance to corrosion and rust. This is why it's not recommended for uses that will expose it to water or high humidity.
With ample care, however, rust can be prevented from ravaging a 65Mn steel product. It also has some ability to resist corrosion, so it's not impossible to keep it in top shape.
Properties of 65Mn Steel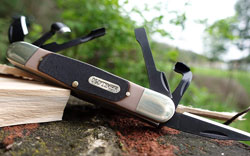 The aim of this 65Mn steel review is to take a closer look at what the steel grade is really like and what consumers can expect to get from it. To elaborate more on those things, here's a list of its properties and attributes that make it an attractive steel grade for knives and other applications.
Hardenability
As mentioned above, the 65Mn steel has high hardenability. This means that it can easily be heat treated to achieve higher hardness levels. This makes it very versatile as depending on the tempering, it can suit various application requirements.
Toughness
One of the reasons why it's possible to use 65Mn steel for knife making is because of its high level of strength and toughness. Most of its components add strength to the mix so it promises to be durable and capable of withstanding hard use.
For knives, this is a crucial feature as many subject such tools to all kinds of rough handling. It won't easily chip, break, or shatter but it can get deformed when a high amount of strain is applied to it.
Wear resistance
Thanks to its composition, the 65Mn also promises to be capable of resisting heavy wear. It won't easily shed its materials when subjected to abrasive and adhesive damage. As a result, it can last and function as it's meant to for quite a while.
Hardness
The 65Mn may not get extremely hard like other super steels but it can still reach a decent level of hardness that will make it very functional as a cutting or slicing tool. This also means that it can withstand puncturing and scratching quite effectively.
The exciting thing about the 65Mn is that it contains a good dose of nickel which helps balance the toughness and hardness of the steel. Usually, if a steel is hard, it's also brittle and not that tough. However, with the balance achieved in its composition, the 65Mn has a good balance between the two attributes.
Edge retention
With its level of hardness, it can also be expected for the 65Mn carbon steel to hold its edge for a good long while. Since the steel is hard enough not to roll or shed material quite easily, it won't require very frequent sharpening when used in knives.
Ease of sharpening
Speaking of sharpening, while it's not very frequently required to be done on 65Mn steel knives, the process won't be too difficult should the need arise. The fact that it's not extremely hard will save owners from frequent laborious sharpening sessions. This is a great plus for those who aren't big on maintaining their blades very often.
65Mn Equivalent Steels or Alternative
Still can't get a good grasp of what the 65Mn steel is about? Here are its comparisons to some more popular steel grades that it's somewhat similar to.
65Mn Carbon Steel vs 1095
As a very popular high-carbon steel, it shouldn't come as a surprise that the 1095 is one of the first steel grades pitted against the 65Mn. In fact, some believe that the two can substitute each other for certain purposes, including knifemaking.
What sets the two apart, however, is that the 1095 has a higher carbon content as its name suggests. It's more brittle compared to the 65Mn and other steel grades in its series with lower carbon content, too.
As for the 65Mn, its carbon content may be middling but it has a nice balance of toughness and hardness. This makes its performance quite notable. The addition of manganese and nickel helped it get an edge over the competition.
65Mn Steel vs 1075
The 1075 steel is from the same steel series as the 1095 so the same things can be expected from it. As its name hints at, it has a lower carbon content at .75%. This is closer to what the 65Mn steel has so these two steel grades can be seen as each other's alternatives.
The 1075 is tougher and has more strength than the 1095 so it won't easily chip or break even with heavy use. It can also get quite hard depending on the tempering.
With these said, the performance of the 1075 and the 65Mn can be considered to be very similar. Both have a nice balance of hardness and toughness, so they can be suitable for similar applications.
65Mn Steel vs 8Cr13Mov
What might pique some people's interest is the 8Cr13Mov. This stainless steel is affordable and comes with good wear resistance, edge retention, and hardness. It practically ticks all of the boxes in what most folks look for in a reliable blade steel.
Compared to the 65Mn, the 8Cr13Mov may be a more convenient option for consumers. Since it's durable, easy to sharpen, and resistant to corrosion, it might be a more attractive choice for some.
65Mn vs 1085 Steel
Another similar steel grade from the 10xx series is the 1085. Like the 1095, it gets quite hard and offers good wear resistance and edge holding. However, due to its higher carbon content, it can also be more brittle than the 65Mn.
Is 65Mn Steel Good for Knives?
Based on the information provided above, it can be said that using 65Mn steel for knife making is quite ideal. The good balance in attributes that this steel grade was able to achieve makes it an appealing option for knife aficionados who are looking for a dependable blade.
Pros & Cons of 65Mn Steel
Pros
Affordable price tag
High hardenability
Tough but at the same time hard enough so it's suitable for knife making
Versatile and can have various uses
Used by reputable knife manufacturers
Available in different types of knives
Best 65Mn Steel Knives
Curious about what the best 65Mn steel knives are like? Here are some of the most popular picks that can best demonstrate the capabilities of this blade steel.
#1: Kershaw Camp 10 (1077), Fixed Blade Camp Knife
Quick Specification
Blade Length: 10 in. (25.4 cm)
Blade Material: 65Mn
Blade Thickness: 0.192 in. (4.9 mm)
Handle Thickness: 1 in. (25.4 mm)
Overall Length: 16 in. (40.6 cm)
b2 lb. 2.3 oz. (521 g), with sheath 1 lb. 8 oz. (681 g)
A good testament to how hardy and tough the 65Mn carbon steel can get is the Kershaw Camp 10 (1077) Fixed Blade Camp Knife. Meant for hard use, this machete-style knife is designed for clearing brush, making kindling, and everything else in between.
Aside from its hardy blade steel, the other details of this product adds to its functionality. It comes with a full-tang handle that is ergonomically designed and wrapped with non-slip rubber so it's comfortable to hold and wield. It also has a black powder coat on the blade so it won't easily rust.
Lauded for its solid build, this item also offers great bang for the buck with its friendly price tag.

Pros
Full-tang construction promises durability and toughness
Black coating provides corrosion resistance for the blade
Ergonomic handle is made with rubberized material for comfortable handling
Manufactured by a reputable brand
Highly versatile
Molded sheath can be mounted in various ways
Good price
Cons
Blade coating is quite thin
Will still require a bit of upkeep
#2: CRKT Chanceinhell Fixed Blade Machete
Quick Specification
Blade Length: 12″ (304.8 mm)
Edge: Plain
Steel: 65Mn Carbon Steel
Blade Thickness: 0.1″ (2.54 mm)
Grind: Flat
Open Length: 17.88″ (454.15 mm)
Weight: 1.25 lb (0.57 kg)h
Sheath Material: Nylon
Sheath Weight: 6.1 oz (172.93g)
With an interesting name also comes an attractive knife in the CRKT Chanceinhell Fixed Blade Machete. This is the 12" variety which is also the base model in the series. Other sizes are also available for those who want bigger knives.
Designed by award-winning custom knifemaker Ken Onion, the CRKT Chanceinhell promises the same kind of innovation and notable design that is commonly found in Ken Onion knives. It's the first production design knife by KO so it's quite notable and can be expected to have several unique details.
The first on this list is its blade design which has a big belly and a forward heft. Its handle is ergonomically designed and is made of high-quality rubber so it's easy to grab onto.

Pros
Designed by a highly respected custom knife maker
Equipped with unique details
Solid build as expected from CRKT
Friendly price tag
Cuts very nicely
Cons
Unique handle design may need some getting used to
Requires a bit of upkeep
#3: Outdoor Edge Brush Demon Knife
Quick Specification
Blade: 13.5 in / 34.3 cm
Overall Length: 20.0 in / 50.8 cm
Sheath: Nylon
Knife Weight: 1.1 lb / 485g
Total Weight: 1.4 lb / 635g
Blade Material: Carbon Steel
Blade Shape: Straight Back
Another expertly designed option for a 65Mn carbon steel knife is the Outdoor Edge Brush Demon Knife. Crafted by big blade specialist and custom knifemaker Jerry Hossom, the Brush Demon knife sports a Greek Kopis short sword-style blade so it looks menacing and unique.
Its curved edge makes it suitable for a wide range of outdoor and survival tasks. It's very rugged and comes with a durable black powder coat finish to better protect the blade from corrosion.

Pros
Well-built, high-quality blade
Affordable price tag
Unique blade design fashioned after the
Designed by big blade expert and custom knife maker Jerry Hossom
Great functionality thanks to the blade's shape
Cons
Handle material and build quality can be improved
Some have issues with the sheath design
#4: 24OT Splinter Carvin 6in Traditional Folding Whittling Knife
Quick Specification
Overall Length: 6 inch (15.3 cm)
Blade Length: 1.5 inches (3.8 cm)
Weight: 3.9 ounces
65Mn High Carbon Steel
Blade Shape: Straight Back
Blade Edge: Chisel
For something more portable, the 24OT Splinter Carvin' 6in Traditional Folding Whittling Knife is an option. It comes with six tools: straight gouge, hook blade, nail pulls, v-scorp, gouge scorp and chisel, offering great functionality.
Made by Old Timer, a knife manufacturer with a long, established legacy in the industry, it offers top-notch quality at an affordable price. Most OT products are deemed as heirloom pieces, so it's something worth looking into.

Pros
Extremely versatile
Friendly price tag
Made by a tried and tested brand
Relatively large size makes it easier to access the blades
Easy to sharpen
Cons
Knife isn't very sharp straight out of the box
Some have troubles with the non-locking design
#5: Schrade SCHF57 6.3in Steel Full Tang Fixed Blade Knife
Quick Specification
Overall Length: 6.3 inch (15.9 cm)
Blade Length: 2.6 inches (6.7 cm)
Weight: 4 ounces
Blade Shape: Drop Point
Blade Edge: Compound Bevel
G-10 handle slabs
Another option for a day to day blade would be the Schrade SCHF57 6.3in Steel Full Tang Fixed Blade Knife. Made for outdoor and survival use, this knife promises versatility and toughness. Some even use it as an EDC.
Paired with a multi-carry option thermoplastic belt sheath, quick access is guaranteed by this product. It's ready to use without any need for adjustments or setting up.
What makes it a great deal, however, is the quality of its blade steel. For its very friendly price tag, the 65Mn steel offers a very good performance.

Pros
Handy small size
Various carry options
Solid construction
Very affordable price tag
Sleek modern knife design
Good sheath design
Versatile and can also be used as an EDC
Cons
Attachment parts have low quality
Some find it a bit too heavy for its size
Conclusion
With its  good balance between toughness, hardness, wear resistance, and edge retention, it's quite surprising that not a lot of people are familiar with this steel grade. The fact that it's made in China may be holding some people back from giving it a try. With its very friendly price tag, it might still make a good case for practical knife aficionados.
Got more to add to this 65Mn steel review? Don't hesitate to share them in the comment section below.