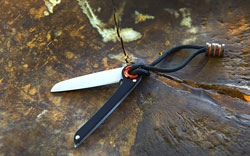 Have you come across some 420 steel knives and wondered how good that 420 steel can be? That's not surprising, because 420 steel can be very inexpensive that you may wonder how it can be all that good.
At least, you're researching the quality of the steel that will come with the blade. After all, the steel for the blade will be the most crucial factor in determining how useful the knife will be in meeting your particular cutting needs.
With this guide, you will find just about everything pertinent that you need to know about 420 steel. You'll know its principal properties, its advantages and drawbacks, and even its specific chemical composition. you'll know what to expect from 420 steel knives, and even check out a list of the best 420 steel knives out there.
What is 420 Steel?
The 420 steel is part of the 400 series of steels that's very popular due to their very friendly prices. The 420 steel has been around for a long time, and its particular combination of low price with adequate performance will most likely keep it popular for many years to come.
The 420 steel is popular for many types of uses, particularly because despite the low price it is hard enough for use in knives. In addition, it qualifies as stainless steel, so it doesn't rust very easily.
Common Uses of 420 steel
The 420 steel is actually kind of versatile, since plenty of manufacturers find the adequate hardness and good corrosion resistance useful for many types of consumer items. These items include:
Budget pocket knives
Low-end hunting knives
Butterfly knives (balisong knives)
Cutlery (including steak knives and other types of table knives
Scissors
Shear blades
Surgical instruments
Needle valves
Various hand tools
420 Steel Chemical Composition
Let's check out the specific alloys used for 420 steel, and the amounts for each alloy. Each alloy will have a particular effect on the steel, depending on the amount.
Carbon, 0.15% at the most
Manganese, 1.00% at the most
Chromium, 12% to 14%
Silicon, 1.00% at the most
Phosphorus, 0.04% at the most
Sulfur, 0.03% at the most
Carbon, 0.15% at the most: The carbon content is the principal element for determining the hardness of the resulting steel. As you can see, there's really not much carbon here.
But the 420 steel can be treated properly that it can still be useful for knives. The carbon here also helps with the hardenability of the steel, meaning that the 420 steel responds nicely to proper heat treatment.
Manganese, 1.00% at the most: Many consider manganese as next in importance only to carbon. At this amount, it helps with boosting the strength of the steel. It also improves the surface quality of the steel.
Chromium, 12% to 14%: With this amount of chromium, the 420 steel qualifies as stainless steel (or at least, lower-end stainless steel). The chromium is instrumental in boosting the corrosion resistance of the steel. In addition, chromium can improve the yield strength of the steel, as well as its hardenability.
Silicon, 1.00% at the most: The silicon acts as one of the main removers of oxygen bubbles in the molten steel. The silicon also strengthens the steel when the silicon dissolves in the iron content.
Phosphorus, 0.04% at the most: That's a tiny amount of phosphorus, because in general the phosphorus is considered an impurity. Even a little bit can make the steel brittle. But when limited to such a tiny amount as this, it's actually helpful. It boosts the strength of the steel, and even helps with corrosion resistance. It also makes the 420 steel more machinable.
Sulfur, 0.03% at the most: This is another impurity at higher amounts, but here it helps with machinability. You just don't want more than this tiny amount, as that can reduce the toughness and ductility of the steel.
420 Steel Hardness
The hardness of 420 steel will depend on how the manufacturer treats the steel before it's available for purchase. In 420 knives, however, the hardness can reach at least 50 HRC.
That's basically good enough hardness for knives, but just barely. That's why 420 steel knives aren't meant for heavy duty. These knives aren't hard enough compared to just about al the other knife steels out there, so edge retention is a problem. But at least its relative softness makes it easier to sharpen.
Does 420 steel rust?
Well, it can rust but not all that easily. In fact, if you take good care of the knife and wipe it dry regularly, then it will take a long time for corrosion to be an issue.
That's because there's enough chromium here for 420 steel to qualify as stainless steel. It nicely resists corrosion that can be caused by fresh water, air, foods, alkalis, and mild acids.
Of course, you should avoid using this in a seawater environment. And its best to minimize its use on unwashed food substances, as that can lead to pitting corrosion.
Properties of 420 steel
Extremely Affordable
This is perhaps the most distinguishing feature of 420 steel. A 420 steel knife is definitely a budget option, so it's great when you're buying dinner knives in a set.
Easy Sharpening
While the edge retention for 420 steel knives isn't great (it's nearer to lousy, to be honest), at least it doesn't take much to sharpen an edge. Any sharpening tool can do the job with much time and effort needed.
Good Corrosion Resistance
This has enough chromium to qualify as stainless steel, though just barely. You should still wipe the steel blade dry after each use, and you don't want to use this in saltwater. But it won't have any problem with regular fresh water and even food acids.
Versatile
This can be used in a wide variety of knives. It works for ED and outdoor knives, as well as dinner knives.
420 Equivalent Steels or Alternative
Another effective way of realizing the true worth of 420 steel is to compare it directly with other steels with somewhat similar attributes. Here's how the 420 steel does in relation with some other steels.
420 vs 440 stainless steel
Both these steels are part of the 400 steel series, and they're both known for their carbon and chromium content.
But the 440 steel contains a lot more carbon, ranging from 0.60% to 0.75% carbon. That makes the 440 steel better at wear resistance and edge retention. The resulting steel is definitely harder in the 440. The 440 steel also contains more chromium, so it's even more corrosion-resistant. But the steel is more expensive than 420 steel.
420 vs 430 stainless steel
The 430 steel is much different than the 420, as the 430 contains several other alloying elements not found in 420 steel. While the 420 steel offers excellent corrosion resistance, the 430 is even better at resisting corrosion.
But the 430 steel doesn't really work for knives, since it doesn't harden through heat treatment. You may find the 430 steel used for butter knives, but not for any other type of knife that cuts materials harder than butter.
420 vs 316 stainless steel
The 316 is a very common type of steel used for stainless steel tools for surgical and food applications. It's also an extremely corrosion-resistant steel, as it can even perform well against saltwater. But it doesn't contain a lot of carbon, so you basically never find this steel used for knives. You can't use heat treatment for 316 steel.
420 steel vs 1095
The 1095 can be found in some knives, and like 420 steel it's very affordable. It offers decent edge retention and good toughness. However, it's not nearly as corrosion resistant as 420 steel, because 1095 steel doesn't qualify as stainless steel.
Is 420 steel good for Knives?
That depends on what you mean by "good". Does it work knives? Yes, it does. In fact, it works for a large variety of knives. Our list of top 420 steel knives includes a couple of pocket knives, a bushcraft knife, and a set of steak knives.
Now if you want your knife steel to be affordable, then the 420 steel is actually terrific. You don't have to spend a lot of money to buy a knife to get the job done.
However, the 420 steel is also regarded as a low-end steel for knives. It works, but a lot of the other steels are much better.
Is 420 stainless steel good for swords?
This will depend on what you plan to actually do with the sword. Is the sword meant mainly for display? If so, then the 420 steel works with swords. Its terrific corrosion resistance means that you can display the sword right out of the scabbard, and the stainless steel won't really mind even a humid environment.
In addition, the 420 steel offers good toughness. That means it's not going to chip off easily. Finally, the sword won't be all that expensive, either. The 420 steel is easy enough for sword makers to work with, and they can churn out 420 steel swords quickly in high volume.
It's just that it doesn't really cut all that well. Even using it for cutting cardboard will dull the edge very quickly.
Pros & Cons of 420 steel
Pros
Extremely affordable
Stainless steel (corrosion-resistant)
Good toughness
Easy to sharpen
Cons
Below average edge retention
Best 420 steel Knives
#1: MIKI Classic Camping Pocket Folding Knife
Quick Specification
Handle Length: 4.72 inches (12 cm)
Blade Length: 3.46 inches (8.8 cm)
Length Opened: 8.19 inches (20.8 cm)
Weight: 131 g
Blade Material: Stainless Steel
Handle Material: Stainless Steel
Blade Shape: Drop Point
High Quality Nylon Sheath
This may be a folding knife, but even a single glance at the design tells you that this is great at camping and other outdoor activities. The blade measures about 3.46 inches, while the handle is 4.72 inches. When opened, the whole knife is 8.19 inches with a weight of only 131 grams (0.29 pounds).
The blade comes with a sharp point that you'll find easy to control when doing work. It's very suitable for detail work and piercing, while the edge works nicely for slicing. The blade is sharp right out of the box, and it holds its sharp edge remarkably well (given the limitations of this budget steel).
The nail notch on the blade makes it simple enough to open, and the lockback mechanism locks the blade when it's open. That way, you don't accidentally fold back the blade when you're using the knife.
With its low weight, the MIKI folding knife is very easy to bring along. Your purchase even comes with a nice nylon sheath. It has an integrated belt loop that lets you secure this on your belt for easier access than keeping it in your pocket.
Overall, the value for money is terrific. You pay a relatively low price for an outdoor knife with excellent corrosion resistance and surprising edge retention. The quality is terrific, and it even looks great.

Pros
Suitable for camping duties
Sharp out of the box
Holds its sharp edge for a remarkably long while
Comes with nylon sheath and integrated belt loop
Easy enough to open with the nail notch
Locks the blade when opened
Looks nice
Cons
A bit too big for pockets
#2: Troika TASCHENMESSER KNF80/BK Pocket Knife
Quick Specification
Blade: 2.25 inch
Weight: 0.07 Lbs
Blade Material: Stainless Steel Nylon Strap
Blade Shap: Clip Point
Packaging brown box with color sleeve
Now we have a much smaller pocket knife here, and it works very well for indoor use. But you may also find it useful when you're out camping or even hunting.
Carrying this around shouldn't be a problem, with the lanyard attached to the end of the handle. The lanyard makes it easier for you to fish out the knife from your pocket. With its 30g weight (0.07 pounds), you won't even notice its weight when it's in your pocket.
Actually, the lanyard is at the middle point of the knife when it's opened. It can get in the way, unless you use it by getting your hand through the lanyard to grip the handle. That adds another layer of security when you hold the knife for better control. You can also just attach the lanyard to your bag or backpack.
This is perfect for EDC, as the knife is only 3.25 inches long when folded. Open the blade, and it's only 2.25 inches. It doesn't look intimidating at all, and it's great for opening packages and for opening letters. It also has a lock function

Pros
Extremely affordable
Small and lightweight
The lanyard makes it easy to fish out of pockets and for attaching to a backpack
Can work outdoors too
Cons
The lanyard can get in the way when opened
Only cuts paper and cardboard effectively
#3: Hobby Hut HH-406, 420 Stainless Steel Bushcraft Hunting Knife
Quick Specification
Length: 8 inches
Item Weight: 13.6 ounces
Materials: Carbon Stainless Steel with Micarta Handle
Included: Leather Sheath
If you want a knife for serious outdoor work, then perhaps this is the 420 steel knife you're looking for. It's a fixed knife with a full tang design, while the wooden handle offers a strong grip and nice aesthetics as well.
Actually, the handle is made with walnut wood. It has a sleek texture that makes it a pleasure to hold. But the shape of the handle is suited for a secure grip. The handle helps with the balance of the knife, and it lets you use the knife efficiently. The handle measures about 4 inches as well, and it should suit most hand sizes.
The blade has been forged by hand, and it's razor-sharp right out of the box. Its design comes with a sharp point, and this works nicely for detail work and piercing. It also cuts nicely even in tight places. The blade measures 4 inches, with a cutting edge of about 3.7 inches, a thickness of 0.15 inches, and a width of about 1.2 inches.
The leather sheath is quite nice, though it's a bit of a loose fit. Setting this in an inverted position can get the knife out, though you can solve this problem by adding a Chicago screw near the top of the leather sheath.

Pros
Meant to last a lifetime
Comes with a nice leather sheath
Full tang design gives it the strength you want
The handle looks nice and comfy to grasp
The weight balance is perfect
Cons
The sheath is a bit loose
#4: 8-Piece Steak Knife Set, 420 Stainless Steel Full Tang Steak Knives
Quick Specification
Item Weight: 8.1 ounces
Blade Length: 4.5 Inches
Blade Material: Stainless Steel
Handle Material: Wood
Blade Edge: Serrated
The price here is ridiculously low, as you get 8 knives basically for a little over a dollar per knife. That makes it sound like these knives aren't all that useful, but these things are actually great for their intended task. If you want a knife set for when you have guests for dinner, then you'd want to get this set. It certainly won't break your budget.
The knives are all the same, sporting a slim blade that measures 4.5 inches long. The blade edge is serrated, so that you're able to cut your meat a lot easier. You don't need to sharpen this knife at all, as it's designed to simply stay sharp for a very long time.
The full tang design combined with the handle design gives you full control over the blade. It offers a non-slip grip that's great especially if you're serving wine as wel006C
The handle can come in a variety of materials, but we went with the more elegant wood handle. It nicer to look at, and also much better to hold. The knives are all dishwasher-safe, but it's still a good idea to wash the knives by hand for best cleaning results.

Pros
Looks great (works as gifts)
Offers great hand control
Extremely effective in cutting meat
Astonishingly affordable
Stays sharp
Cons
Hand-washing is recommended
Conclusion
The 420 steel is a favorite of many knife manufacturers for their budget knives. It's a very affordable steel, and it's not too difficult to work with.
Its very affordability is also why it remains popular with plenty of consumers. The price is so low you're able to buy a bunch of knives made with 420 steel. If you don't have a large budget for knives, then you can still get a set of 420 steel knives for the kitchen, and for EDC and outdoor knives that you only use every now and then.
In the end, the 420 steel is just "good enough", and meant mainly for those who don't want to spend a lot on knives to begin with. If your budget is your main concern, then 420 steel is certainly a good option.